Rise in HR transformation strategies
Since the pandemic, the term 'transformation' has been a topic of global discussion. Organizations are eagerly embracing digital transformation. A recent survey conducted by PwC highlights the importance of implementing digital HR transformation strategies for achieving success in an organization's digital agenda. 
According to the survey, 25% of organizations have added HR digital transformation to their future agendas, while 49% of Chief Experience Officers (CXOs) view HR as a key driver for instilling a digital culture and mindset
Shift in employee experience and preferences
When it comes to the pandemic, we've witnessed a universal transformation driven by changes in preferences, perspectives, demands, and needs. Employee experience is changing, and so is the way we work. People are increasingly opting for a hybrid or remote working lifestyle, and their expectations have shifted significantly from what they were before the pandemic. 
Most importantly, as the frontline designers of the employee experience, HR leaders play a critical role in driving change to meet these evolving demands.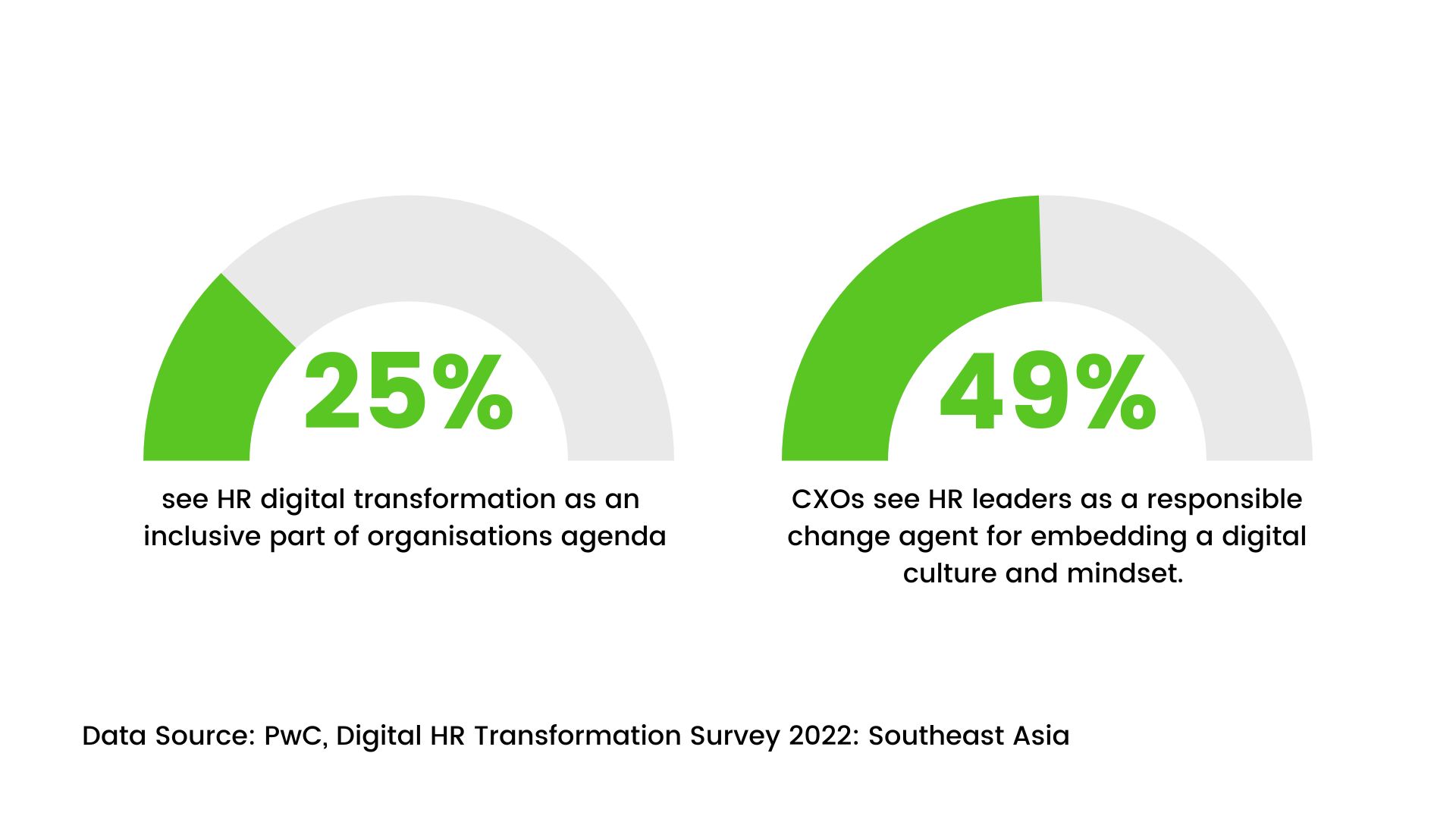 Why is HR transformation necessary?
The process of transforming manual-based and repetitive tasks into streamlined and automated workflows, resulting in reduced human involvement, time savings, a focus on strategic initiatives, and value creation to achieve business goals, is referred to as digital transformation (DX) in HR.
However, digital transformation isn't merely automation; it also includes improved business agility and the creation of an all-inclusive workforce approach.
HR leaders should recognize that traditional HR management methods are fragmented, disconnected, and lagging behind in the digital age.
Meanwhile, the impact of digital disruptions on employees depends on their willingness to adapt to changes. Digital disruption serves as a catalyst for continuous learning and innovation, driving the organization and industry forward.
HR leaders as the change agents
It is never too late to change, and it is always preferable to be well-prepared with aligned goals in mind rather than undergoing uncoordinated changes, which are more likely to disrupt business efficiency.
According to the findings of the survey mentioned earlier, HR leaders must act as change agents in the digital HR transformation journey. But the question is, what is the value proposition offered to employees in exchange for their embrace of technology? Alternatively, from a strategic standpoint, what can HR leaders do as change agents to foster digital transformation from within?
Here are some key insights we should explore:
1. Set the culture and mindset
Transformation often starts with culture.
Culture often sets the tone and reflects an organization's identity. Bringing in the latest disruptive technology isn't enough for transformation; it's about embedding and engaging employees in a digital culture and mindset while enhancing 'stickiness' with the technology we pursue. 
With constant exposure to the established culture and mindset, transparency, and open-minded thinking, employee adoption and buy-in toward the new environment are likely to follow soon.
2. Realising the power of collaboration
Employee adoption and buy-in to the new environment are more likely to occur when employees are consistently exposed to the established culture, mindset transparency, and open-minded thinking.
3. Addressing skills gaps
The industry's rapid acceleration necessitates workforce upskilling and reskilling to meet pressing needs, and HR leaders play a critical role in this.
Training should be personalized and experiential, addressing specific skill gaps and enabling employees to apply what they've learned in their respective roles, rather than using one-size-fits-all approaches that lack precision.
HR leaders should have the courage to invest in talent, promote knowledge sharing and continuous learning, facilitate idea sharing, and foster collaboration among their teams.
Embracing the synergy of technology and humanity
We may not have covered everything, but if you're starting your digital transformation journey, consider looking into us.
Weaver offers a personalized HR digital transformation platform that seamlessly integrates technology into your existing business processes, enabling you to thrive effortlessly.
Before diving into the specifics, it's important to recognize that different businesses and industries have unique HR functions and requirements. In the HR agenda, the four common phases are recruitment, employment, training, and retention, which will be covered in future articles.
Collaborate seamlessly across departments on a single platform for day-to-day operations. Gain access to visualized real-time data on dashboards during the recruitment process and use quick-access tools to streamline daily operations.
Access restrictions are in place to control data access, particularly beneficial for organizations with complex business structures.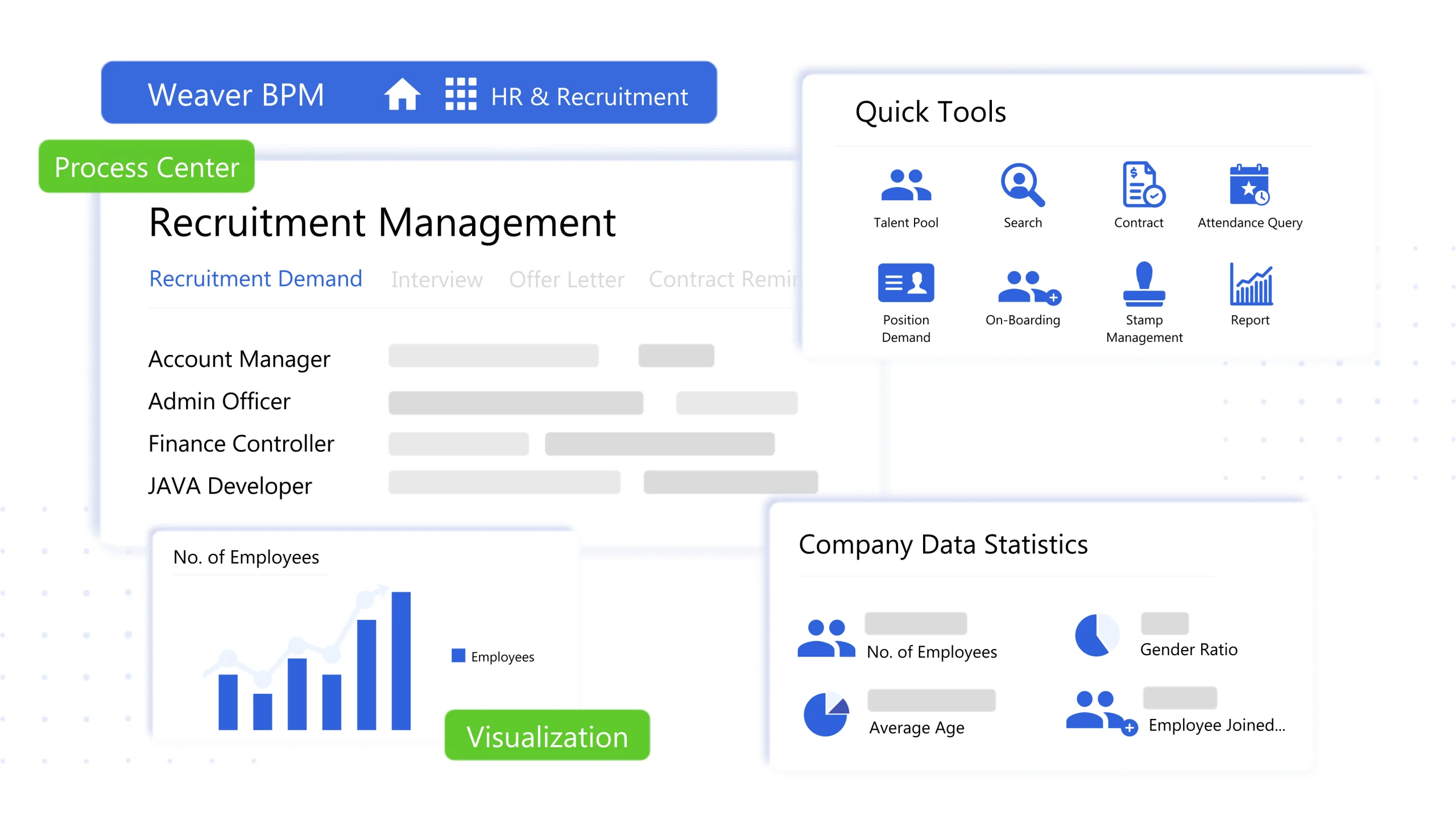 Employees could use a self-service portal to create applications and submit queries digitally via user-defined workflows. Workflow examples include requests for new employees, claims, travel reimbursement, and also access to personal information.
For instance, using a visual workflow chart, you can keep track of the status of your own applications' approval.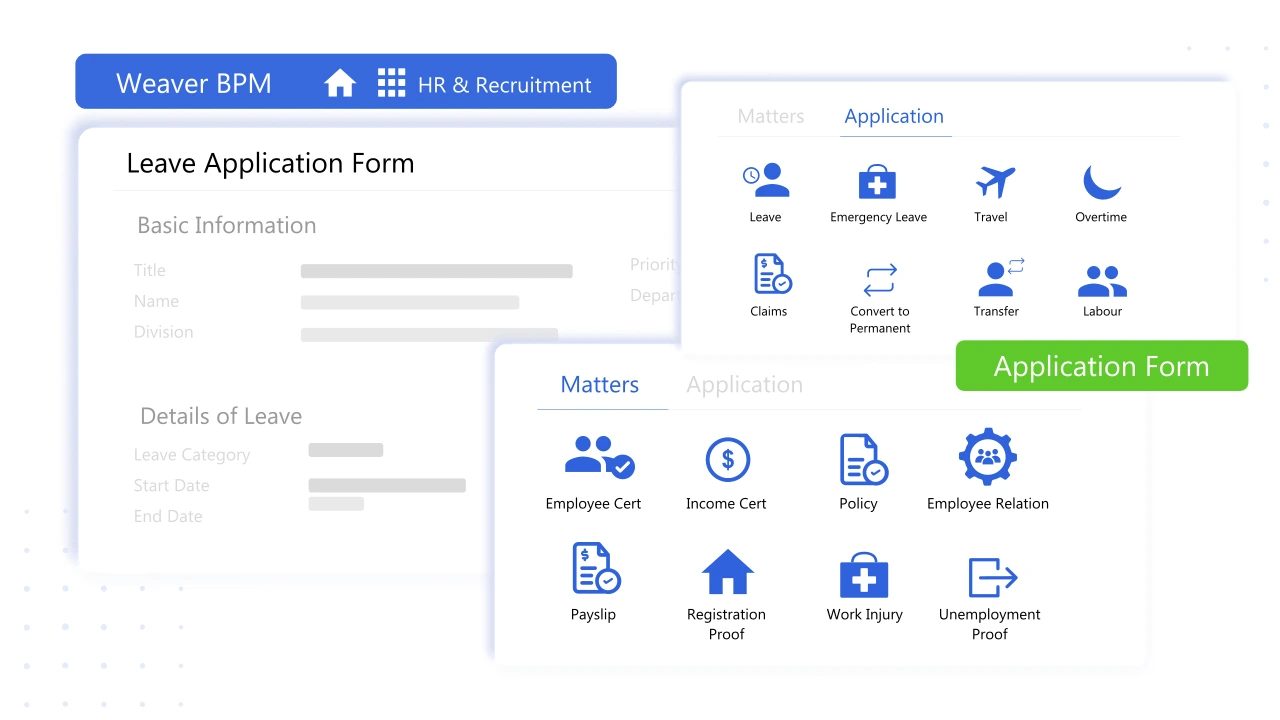 Create tailored learning journeys and training programs for new hires based on their positions and specific use-case scenarios. Continuously empower employees to enrich their digital skills with dedicated knowledge resources to address skill gaps and excel in their roles.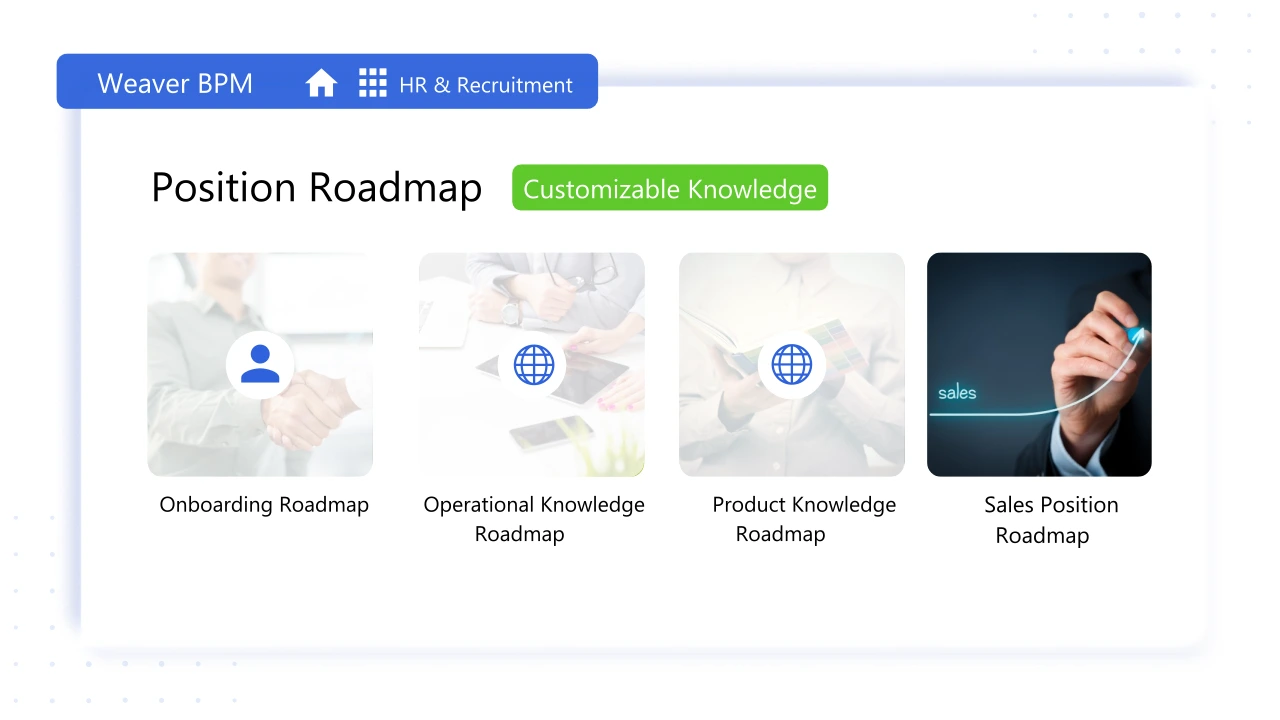 4. Position requisition library
Workforce shortages can be critical to an organisation's development and have an impact on business efficiency. Hence, with a dedicated library that provides a holistic view of internal position demands, recruiters can act swiftly to facilitate internal transfers between cross-functional teams.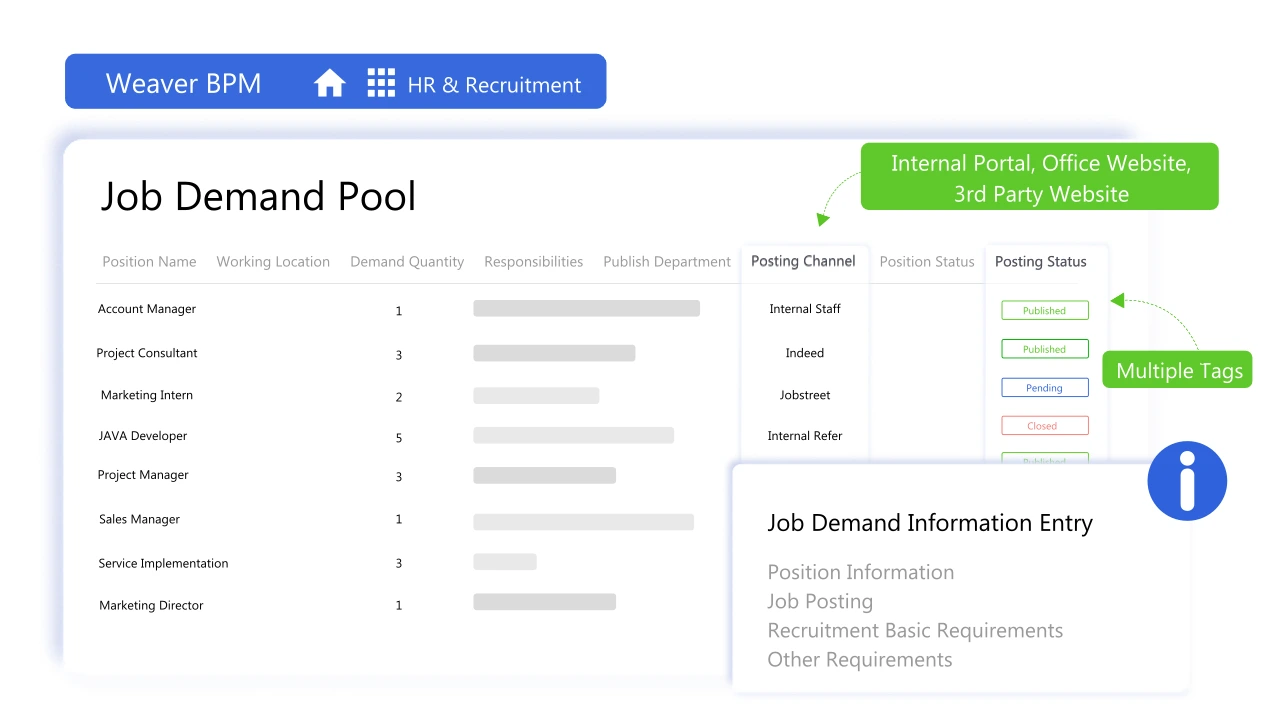 In contrast to a position requisition library, a talent pool offers a comprehensive view of potential talent and sourcing applications from multiple channels, including third-party integrated websites, to meet talent demands. This feature includes easy CV/Resume management, interview scheduling, and progress tracking with self-defined tags.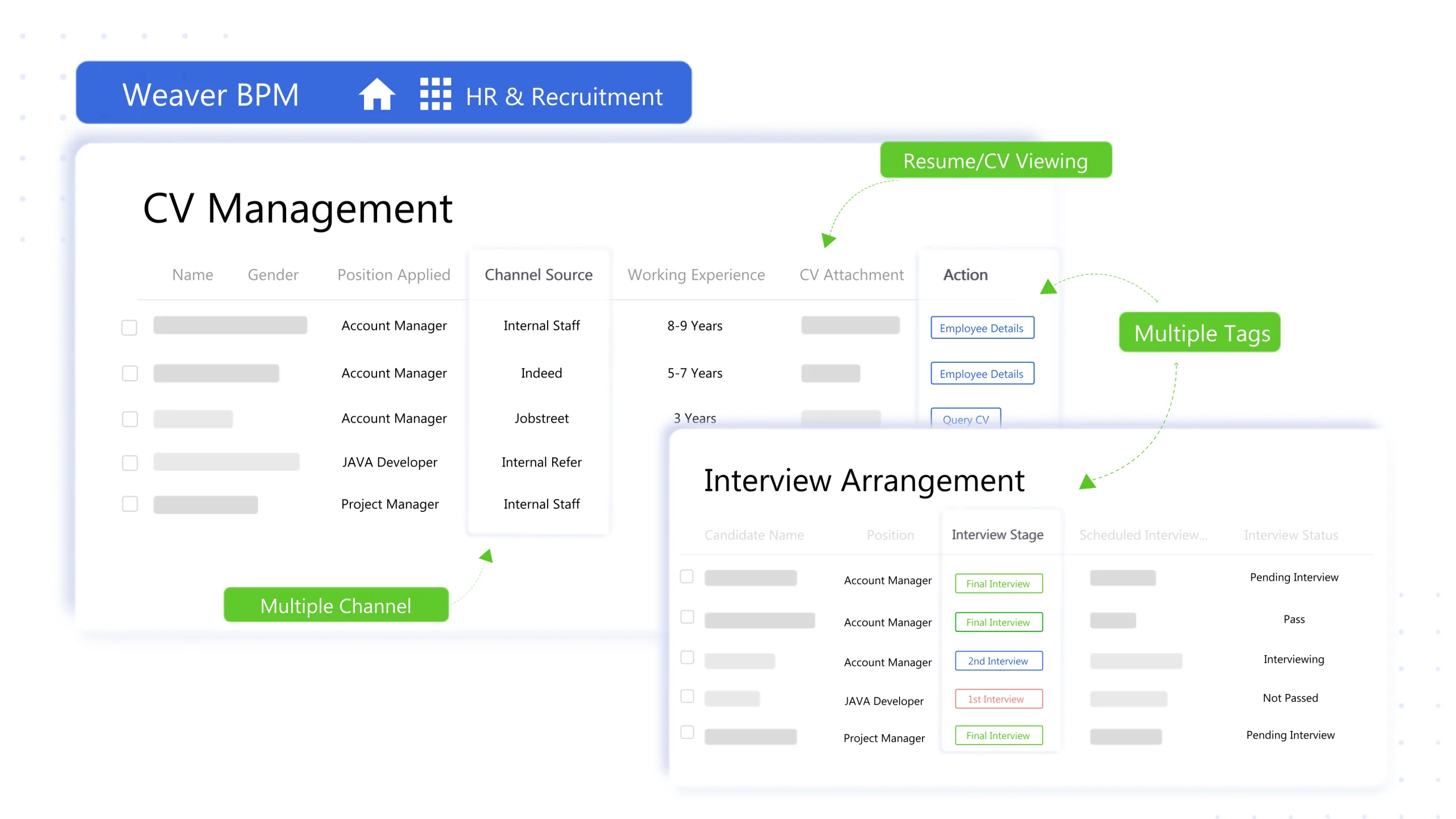 As the shift toward different working lifestyles continues, hybrid arrangements entail fewer office visits and more virtual engagement with colleagues. While attendance may be optional in some organizations, clocking in is still a requirement in most industries. To accommodate various attendance needs, we offer a range of clock-in methods, including mobile, PC, voice recognition, Bluetooth, and machine-based attendance. Additionally, we can integrate external applications like WeChat Work and DingTalk upon request.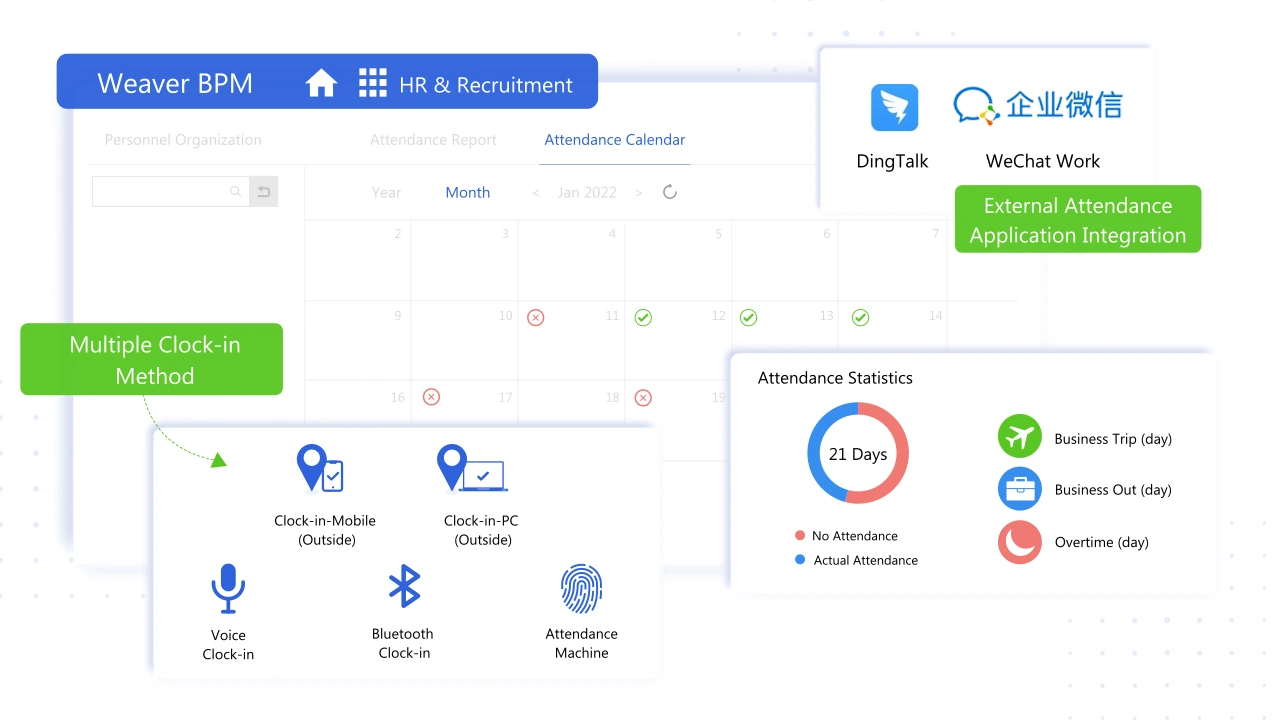 7. Risk compliance and monitoring
Managing a large number of employees manually can be challenging for HR, especially in large organizations. HR can identify risks and monitor employee performance using automated system detection for activities like abnormal attendance, allowing them to respond promptly and minimize risks with library-based support.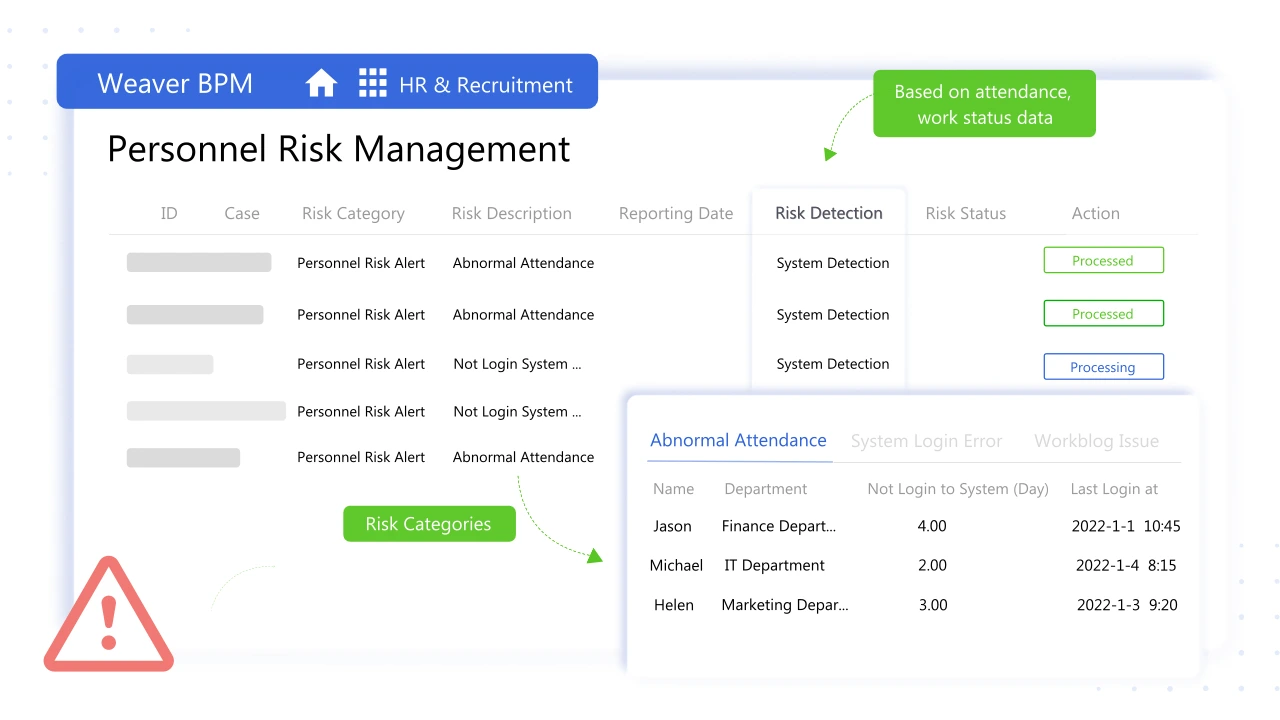 You can access your basic information, job title, attendance performance, scheduled meetings, submitted applications, salary, benefits, and more directly from the platform.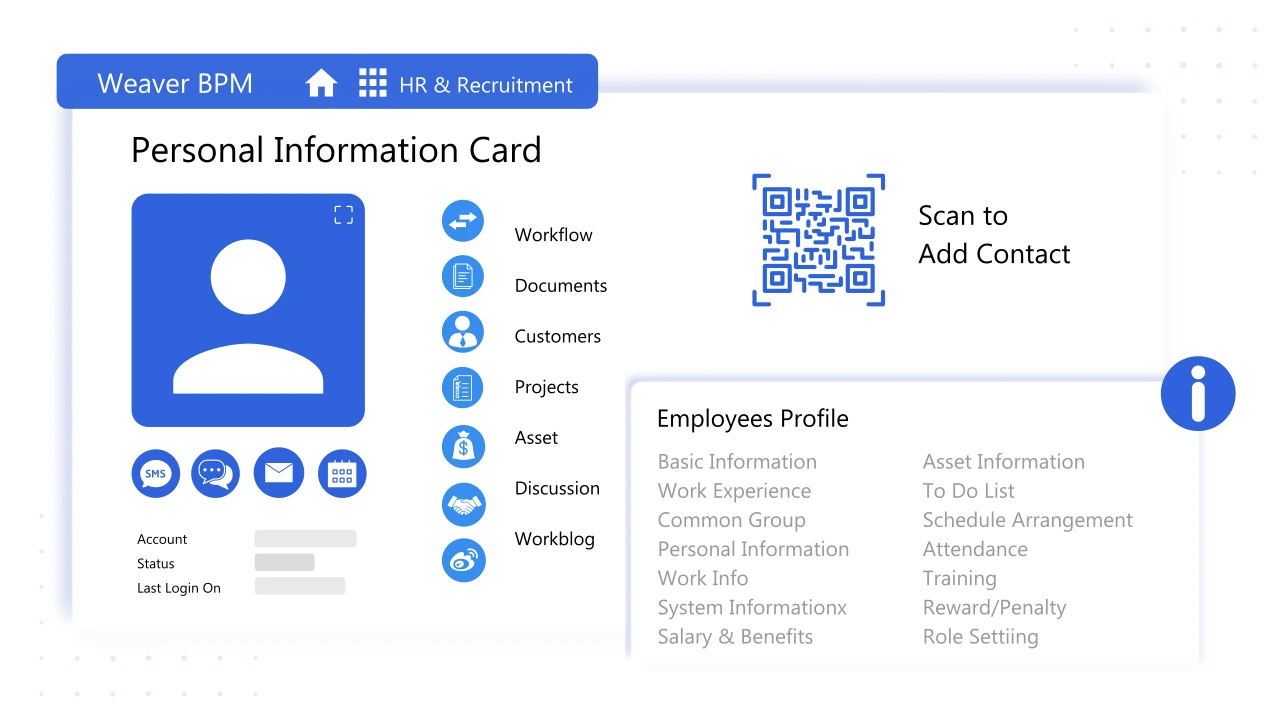 9. Performance management
One of HR's responsibilities is to manage employee performance (KPIs) to determine potential bonus and advancement opportunities. Measuring performance outcomes with self-defined quantitative indicators can involve a time-consuming and risk-prone manual process, including data collection, calculation, and evaluation. This process can be susceptible to errors and metric misinterpretation. As a result, technological assistance can be useful in minimizing potential errors during this process.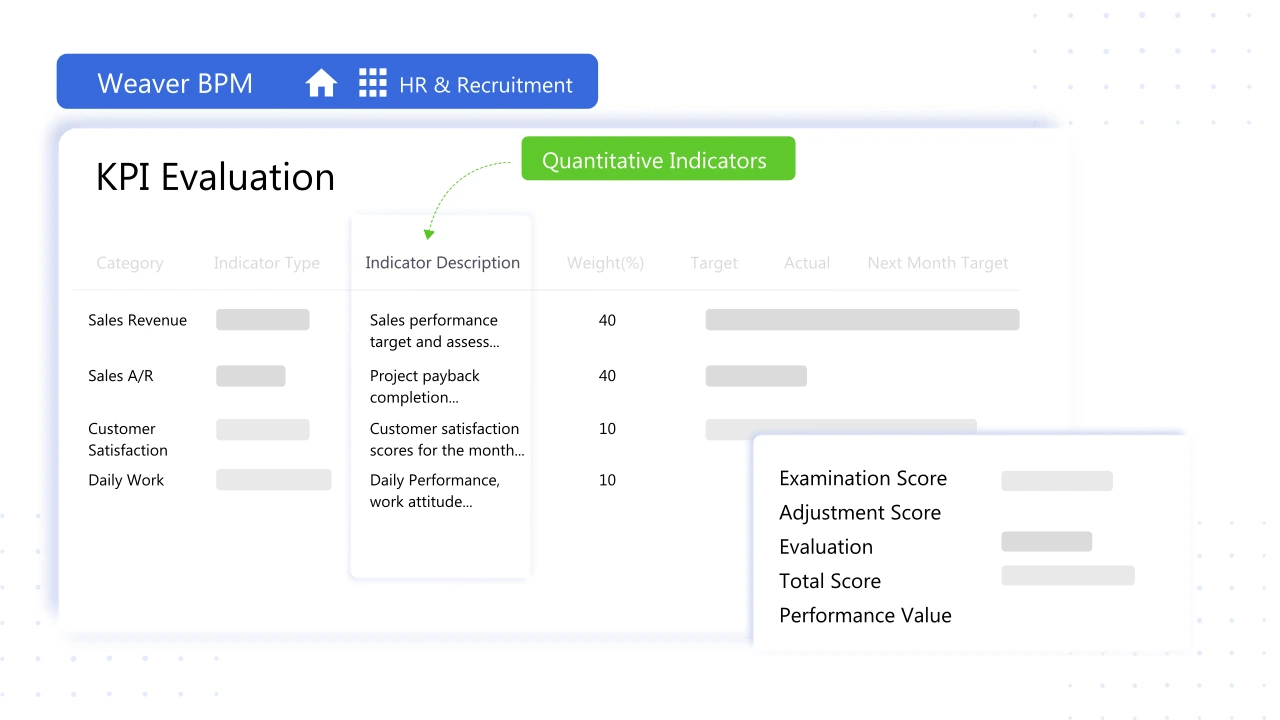 10. Multi-dimensional report analysis
In today's complex business environment, data analysis is of utmost importance. Instead of manual data entry into spreadsheets and the creation of visuals for reporting and presentations, our solution offers comprehensive data analysis with visually presented graphics on your dashboard. As a result, report retrieval time is significantly reduced, saving valuable time. Additionally, thanks to the support of a low-code backend engine, no coding experience is required for data configuration.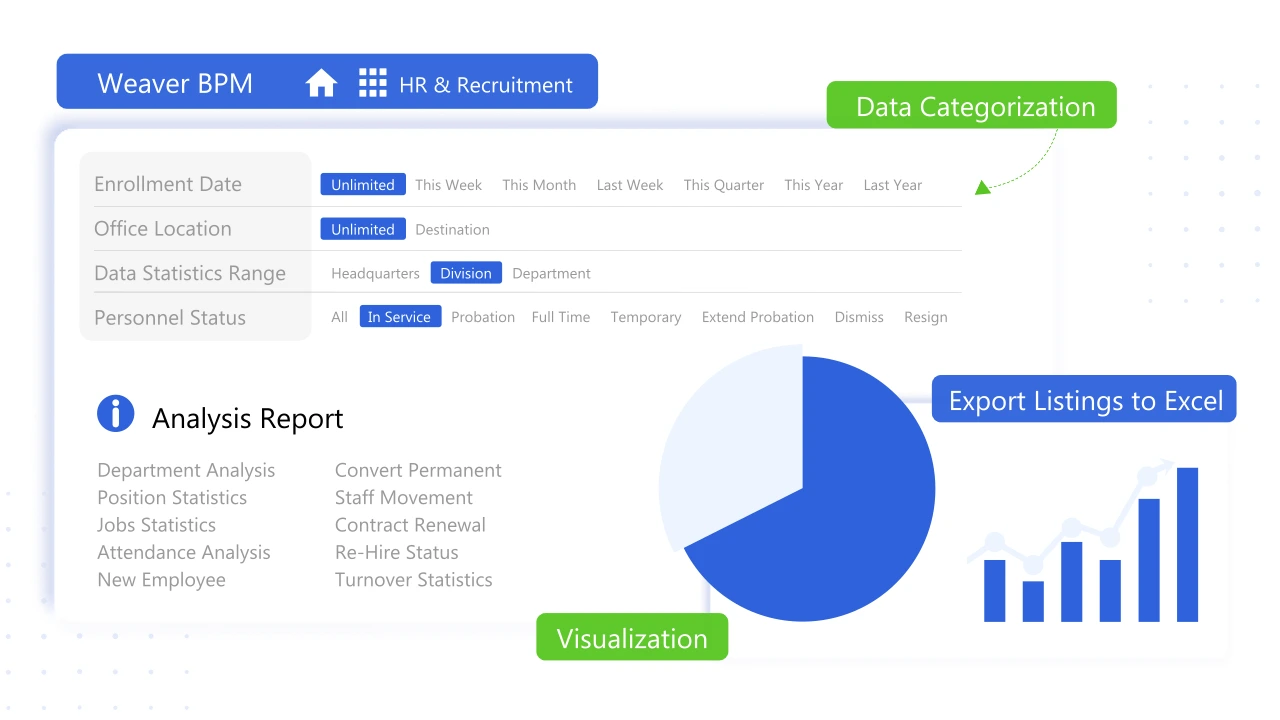 Our scalability features enable individualized control management across group entities for a variety of organizational models. Take complete control over sensitive data access and establish personnel sharing centers for seamless collaboration between departments and entities.
Supported organizational models include:
Grouped personnel management model
Hierarchical management model
Decentralized personnel management model
Centralized management model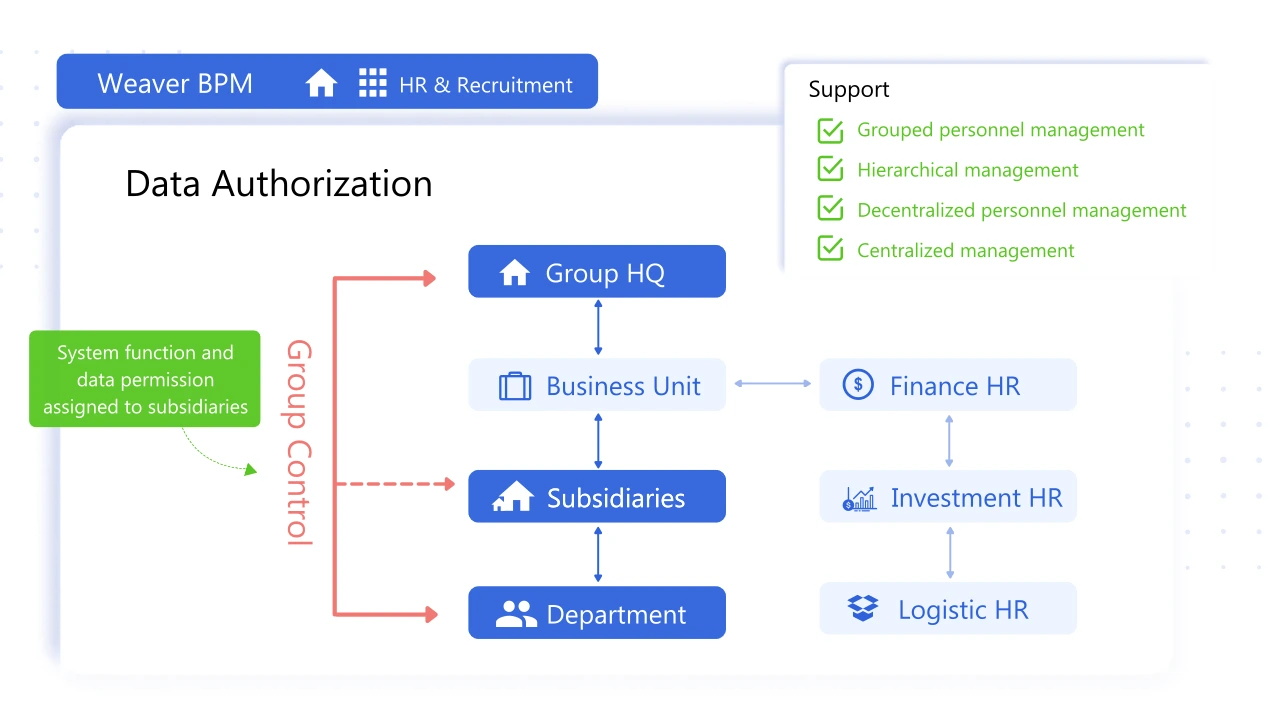 Customizable HR applications for enterprises
Smartphones are becoming more powerful than we ever imagined, thanks to their portability and versatile features. This is particularly advantageous for salespeople who are constantly on the go.
Our HR enterprise mobility app offers flexibility and scalability, benefiting not only HR professionals but also employees.
According to the survey, 25% of organizations have added HR digital transformation to their future agendas, while 49% of Chief Experience Officers (CXOs) view HR as a key driver for instilling a digital culture and mindset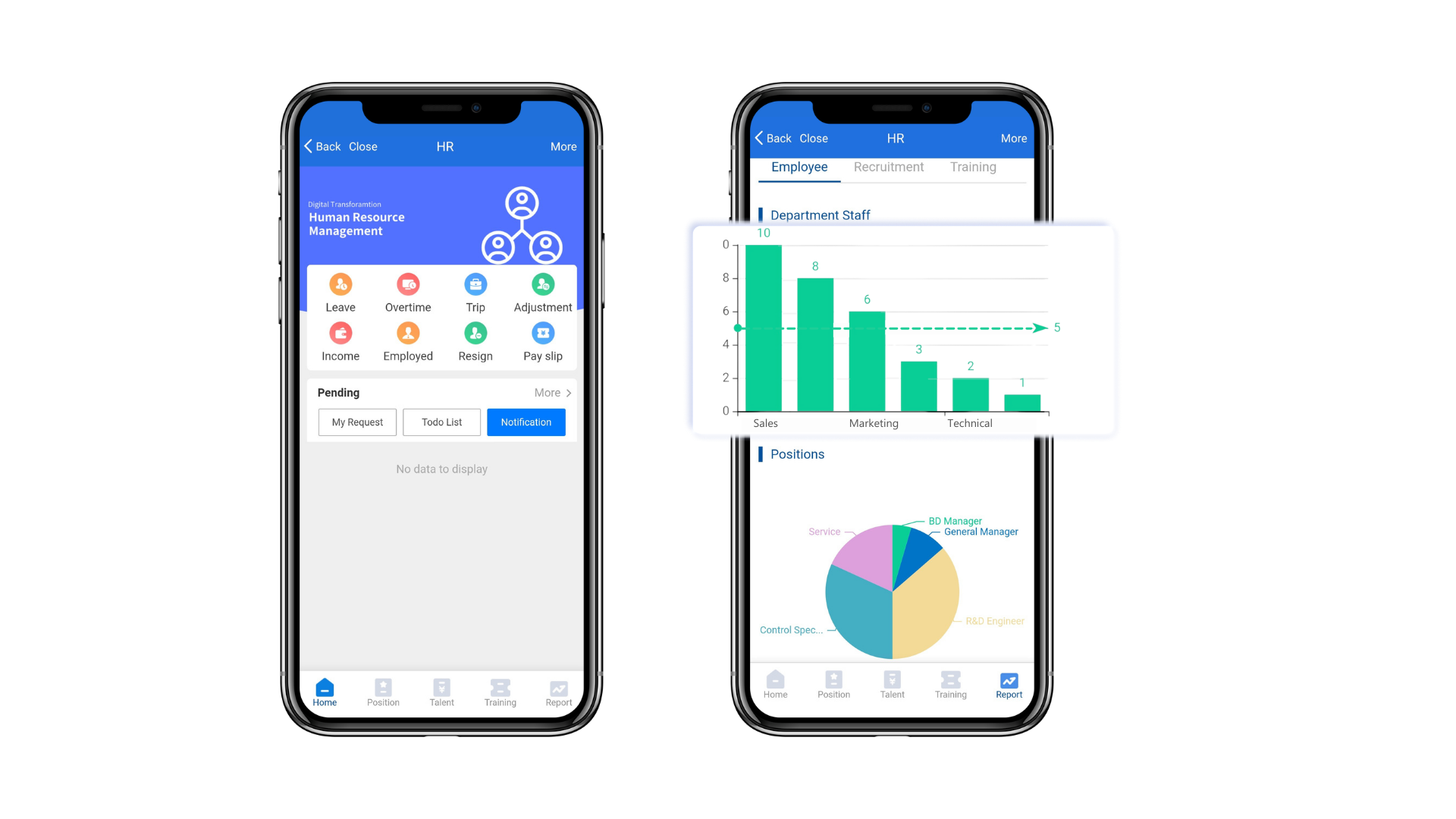 Closing thoughts on digital transformation
As we grapple with increasing digital disruptions, there is a growing need for internal change to remain relevant in the evolving digital workplace. It's a choice between being the disruptor or being disrupted by those who are ahead of the curve. However, transformation doesn't happen overnight, just as Rome wasn't built in a day. There's no one-size-fits-all model or strategy; it requires time, nimble execution, precision, and consistent efforts.
Transitioning to a digital-led organization involves optimizing the synergy between business strategy and technology, creating value, and fostering growth for the benefit of both employees and the organization.
As a result, the significance of digital competencies for a digital enabler company is too great for HR leaders to ignore.