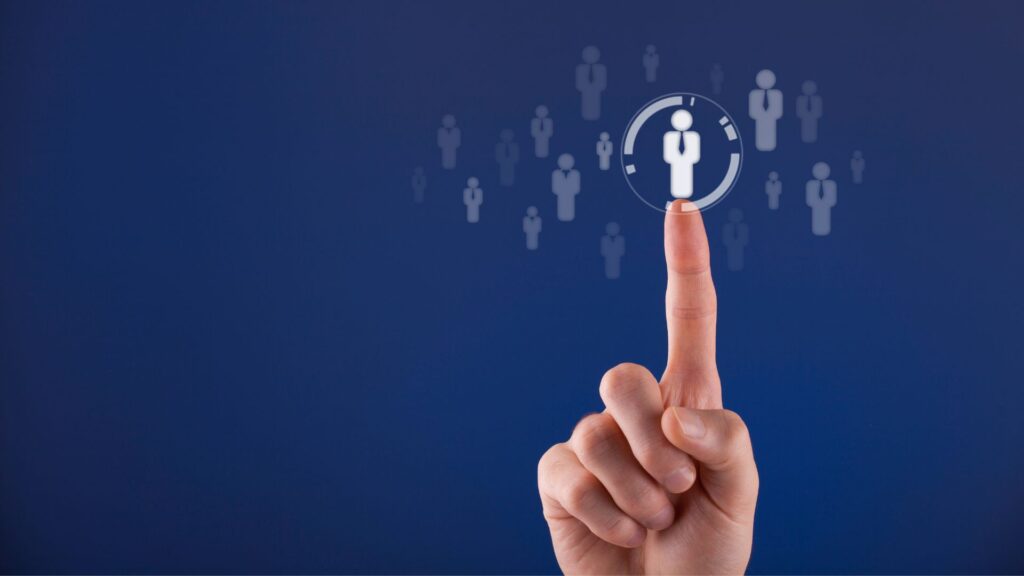 Rise in HR transformation strategies
Since the pandemic, the word transformation has been the talk of the world. Whether it is a bandwagon transformation or driven by industry demand, organisations are jumping on board and engaging in digital transformation by storm.
A recent survey from PwC expands on the significance of implementing digital HR transformation strategies in order to succeed in an organisation's own digital agenda. According to the survey, 25% of organisations have put HR digital transformation on their agenda for future implementation, while 49% of Chief Experience Officers (CXO) see HR as a responsible change agent for embedding a digital culture and mindset.
Shifting in employee experience and preferences
When it comes to the endemic, we've seen unanimity transformation driven by changes in preferences, perspective, demand, and needs. Employee experience is changing, as is the way we work; people are opting for a hybrid or remote working lifestyle, and what they demand isn't the same as it was before the pandemic due to shifting expectations.
Most importantly, as the frontline of employee experience designers, HR leaders play a critical role in initiating change to meet those evolving demands.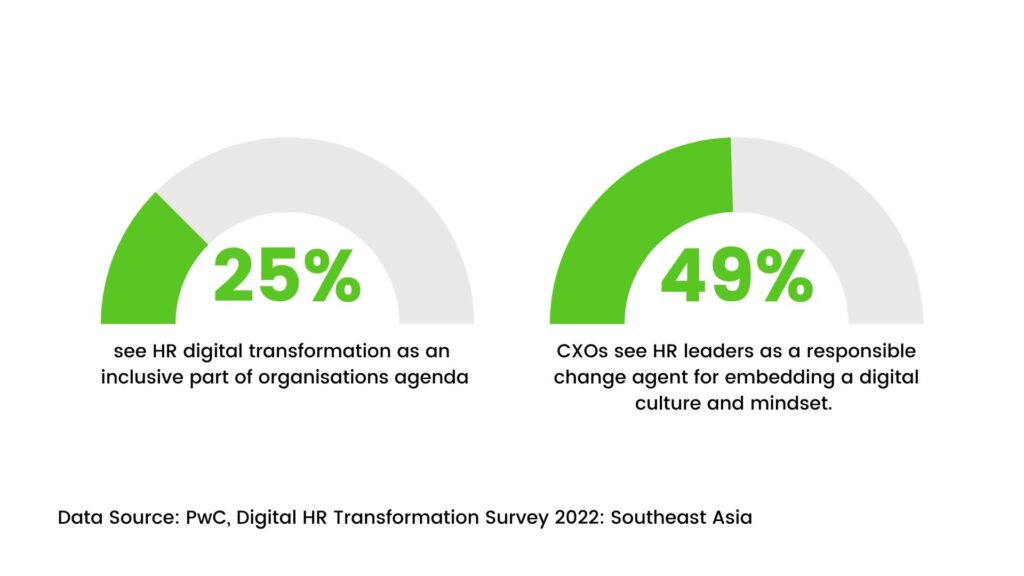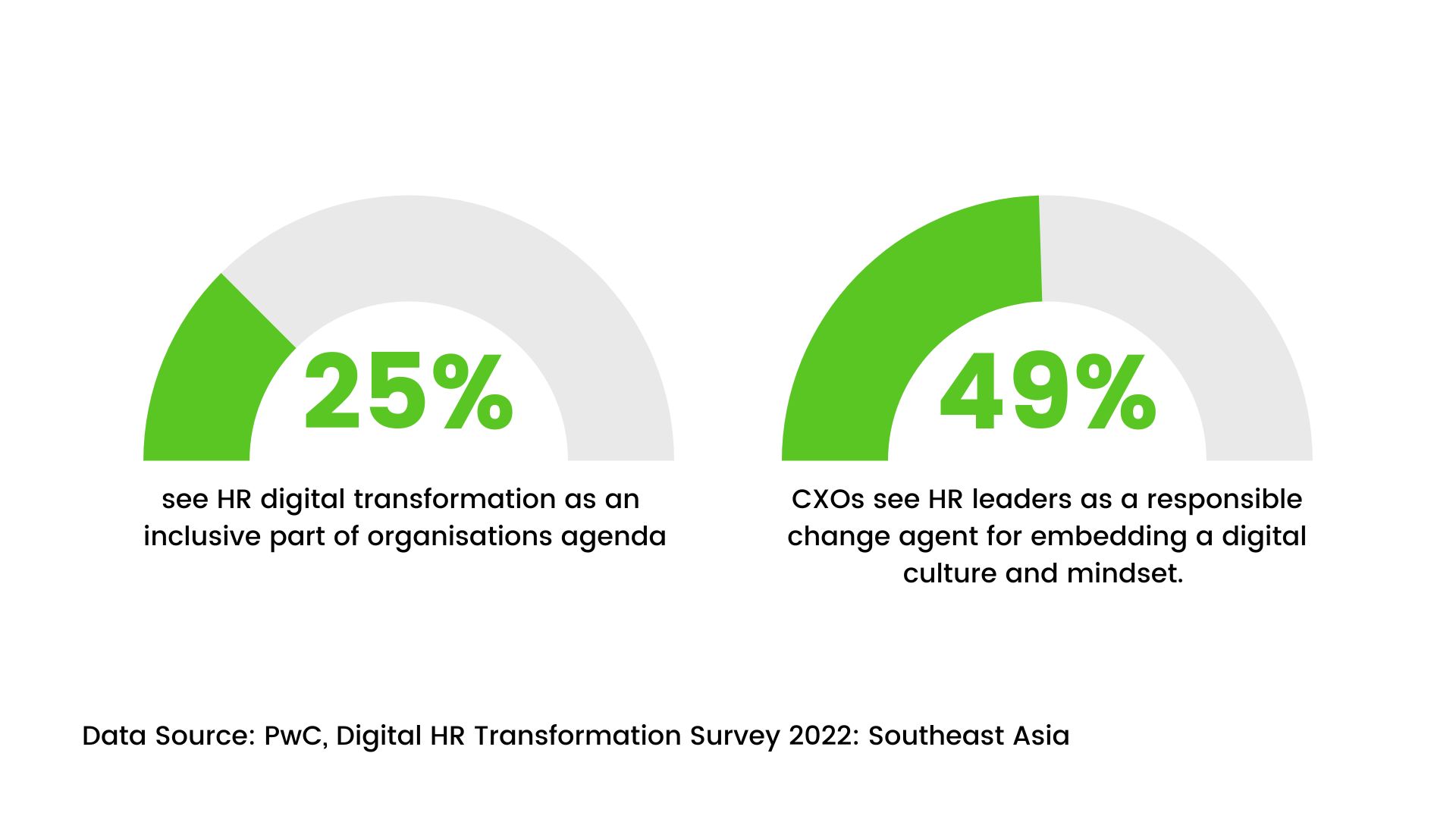 Why is HR transformation necessary?
The transition of manual-based and repetitive processes into streamlined and automated workflows, which means less human involvement, time savings, strategic initiatives focused, and value creation in achieving business goals, is referred to as digital transformation (DX) of HR.
However, digital transformation isn't merely automation ; it also includes improved business agility and the creation of an all-in workforce approach. Understanding the underlying principles in addressing those challenges may provide you with a clear path for pursuing your transformation strategies.
It is critical for HR leaders to recognise that traditional HR management methods are fragmented, disconnected, and falling behind in the age of digitalisation. HR leaders must always be ready to respond and adapt to the new normal.
Meanwhile, depending on how willing employees are to adapt to changes, the surge in digital disruptions may or may not be detrimental to them. Digital disruption is a driving force that enables continuous learning and innovation, propelling the organisation and industry forward.
HR leaders as the change agents
It is never too late to change, and it is always preferable to be well-prepared with aligned goals in mind rather than uncoordinated change, which is more likely to disrupt business efficiency.
According to the findings of the aforementioned survey, HR leaders must act as change agents in the digital HR transformation journey. But the question is, what is the value proposition offered to employees in exchange for their embrace of technology? Alternatively, from a strategic standpoint, what can HR leaders do as change agents to foster digital transformation from within?
Here are some key takeaways that we ought to unfold:
1. Set the culture and mindset
Transformation often starts with culture. 
Transformation frequently begins with culture. Culture sets the tone and portrays an organization's image. Bringing in the latest and most disruptive technology isn't enough to foster transformation; it's about embedding and engaging employees in the digital culture and mindset, as well as ramping up "stickiness" with the technology we pursued.
With constant exposure to the set culture and mindset-transparency and open-minded thinking, it is likely that employee adoption and buy-in towards the new environment will soon follow. 
2. Realising the power of collaboration
Employee adoption and buy-in to the new environment are likely to follow if employees are constantly exposed to the established culture and mindset-transparency and open-minded thinking.
3. Addressing skills gaps
The industry's rapid acceleration necessitates workforce up-skilling and re-skilling to meet pressing needs, and HR leaders play a critical role in this. 
Trainings should be individualised and experiential, focusing on the specific skill gaps they are lacking in and applying what they learned in their respective roles, rather than broad-brush approaches that lack finesse.
HR leaders must be courageous in investing in talent, encouraging knowledge sharing and continuous learning, sharing and expressing ideas, and collaborating with one another.
Embracing the power of technology and human together
We may not have covered everything, but if you're looking for a place to start your digital transformation journey, you should look into us.
Weaver provides a personalised HR digital transformation platform that integrates technology into existing business processes to help you thrive smoothly and effortlessly. When compared to our competitors in the HRM agenda, we have the advantage of offering digitally capable features.
Before delving into the specifics, it is important to understand that different businesses and industries have different HR functions and requirements. In the HR agenda, the four common phases are recruitment, employment, training, and retention, which will be covered in future articles.
For day-to-day operations, collaborate seamlessly across departments on a single platform. Get visualised rich data on real-time dashboards during the recruitment process, and leverage quick access tools to get around daily operations. Access restrictions are also in place to limit who has access to certain data, especially beneficial to organisations with complex business structure.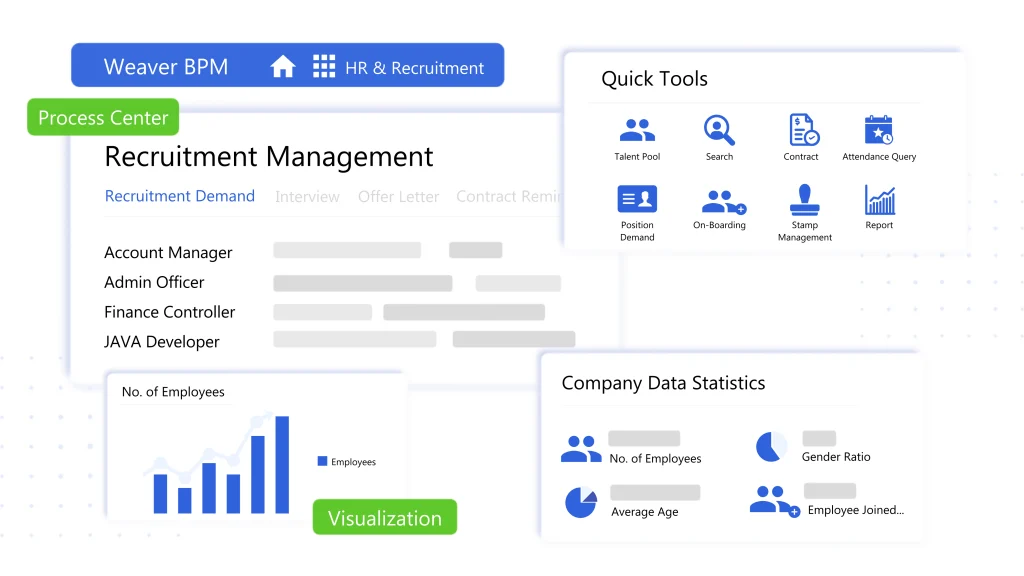 Exhibit 1: Role-based portal
Employees could use a self-service portal to create applications and submit queries digitally via user-defined workflows. Workflow examples include requests for new employees, claims, travel reimbursement, and also access to personal information. 
For instance, using a visual workflow chart, you can keep track of the status of your applications' approval.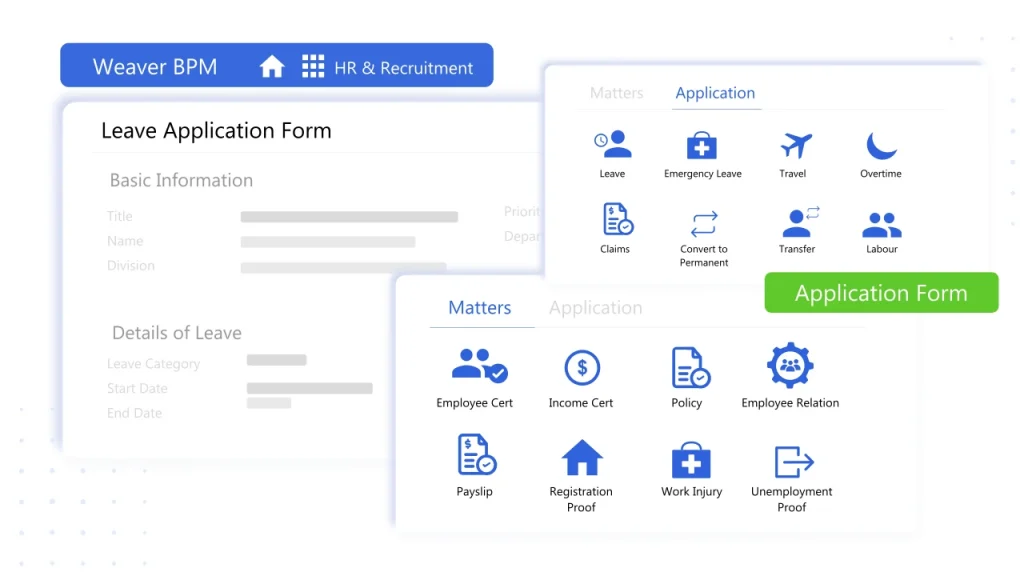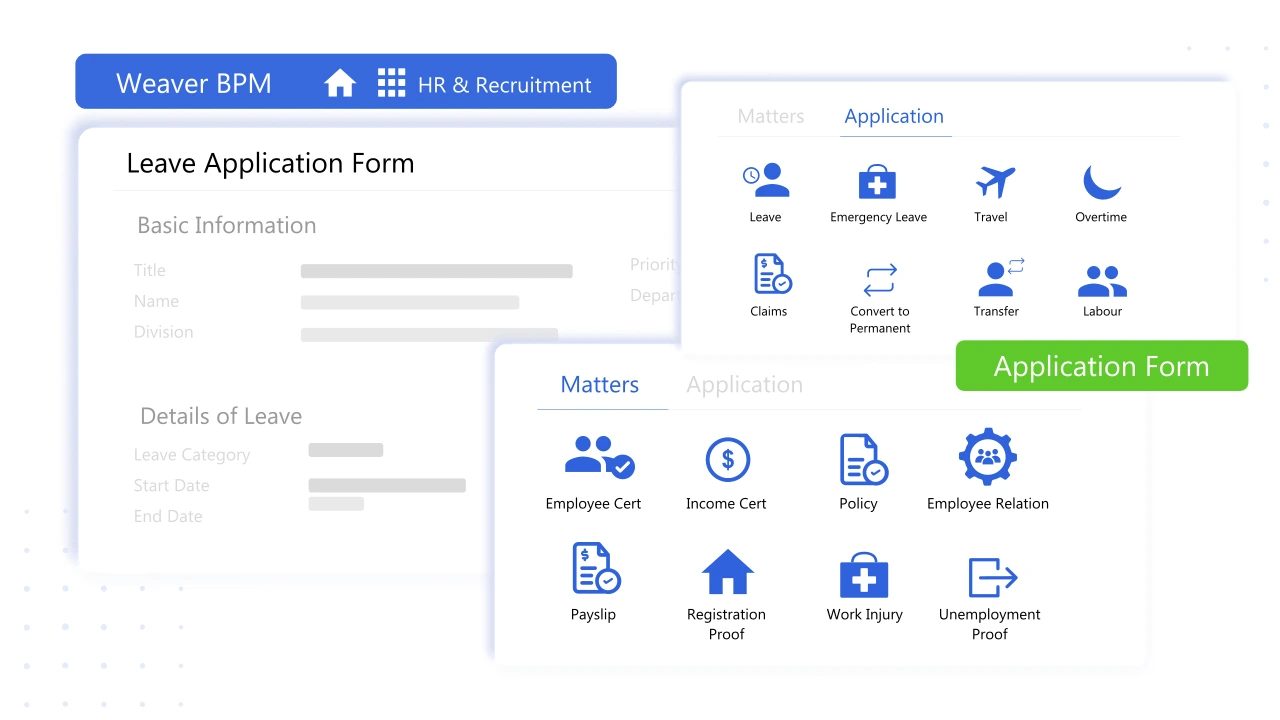 Exhibit 2: Employee self-service
Create tailored learning journeys and trainings for new hires based on positions and use-case scenarios. It is important to continuously empower employees' digital self-enrichment with dedicated and knowledge to address skill gaps and excel on the job.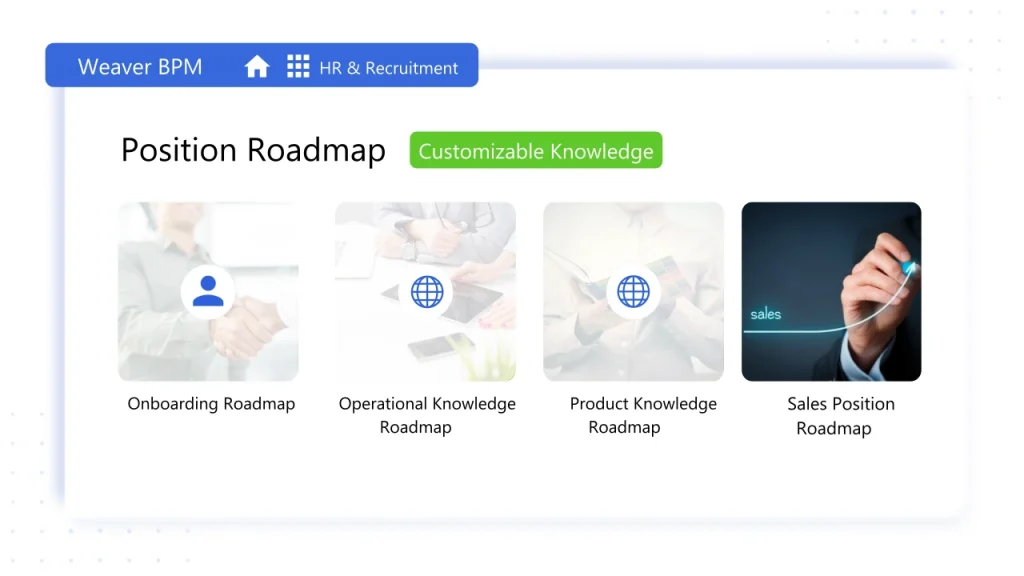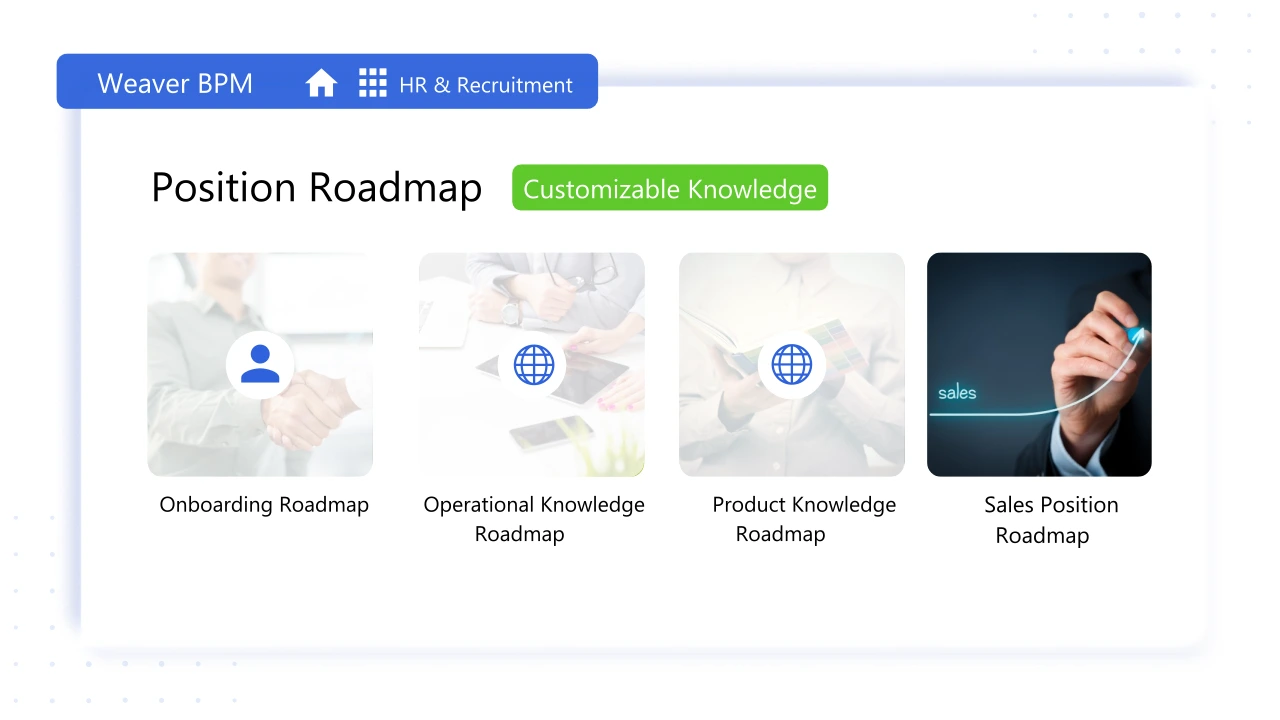 Exhibit 3: Knowledge base
4. Position requisition library
Workforce shortages can be critical to an organisation's development and have an impact on business efficiency. Hence, with a dedicated library that displays internal position demands holistically, recruiters could move quickly and facilitate internal transfer between cross-functional teams.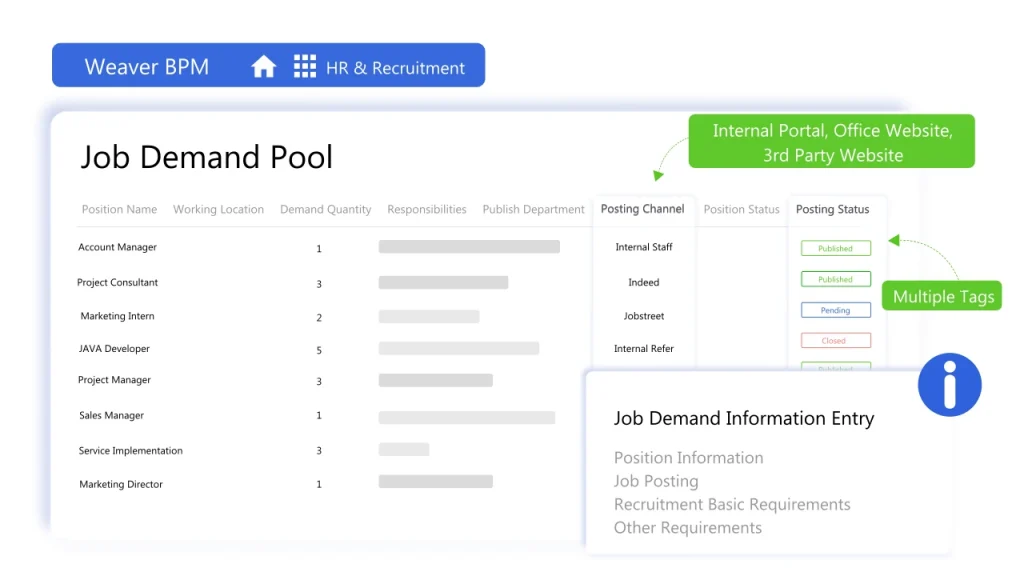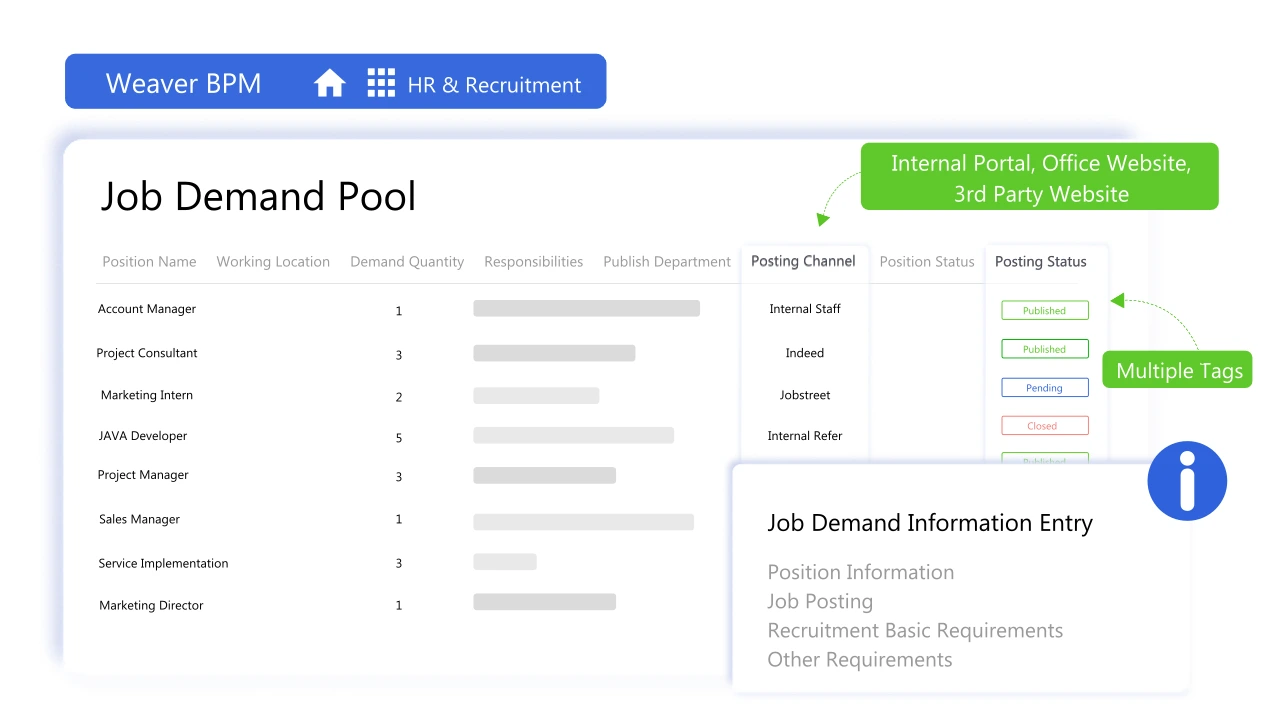 Exhibit 4: Position requisition library
In contrast to a position requisition library, a talent pool provides a comprehensive view of potential talent and application sourcing from multiple channels, such as third-party integrated websites, to meet talent demands. 
This feature includes simple management for CV/Resume management, interview scheduling, and tracking progress with self-defined tags.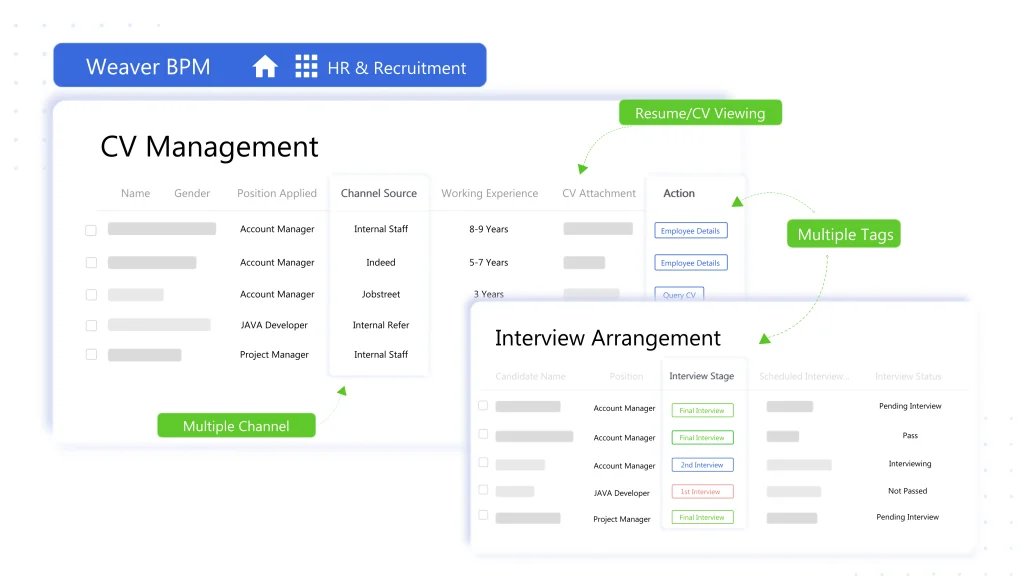 With the shift towards different working lifestyle, hybrids mean fewer office visits and more virtual engagement with one another. Attendance may be optional in some organisations, but clock-in attendance is still required in the majority of industries.
To cope with different attendance needs, we offer a variety of clock-in methods, including mobile, PC, voice recognition, Bluetooth, and machine-based attendance. Additional external integration of applications such as WeChat Work and DingTalk are also available upon request.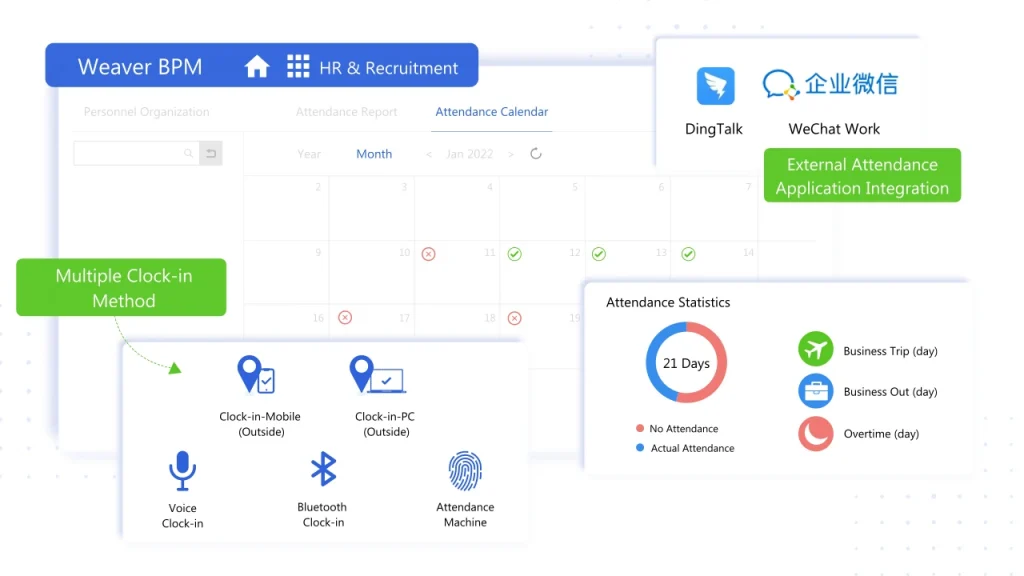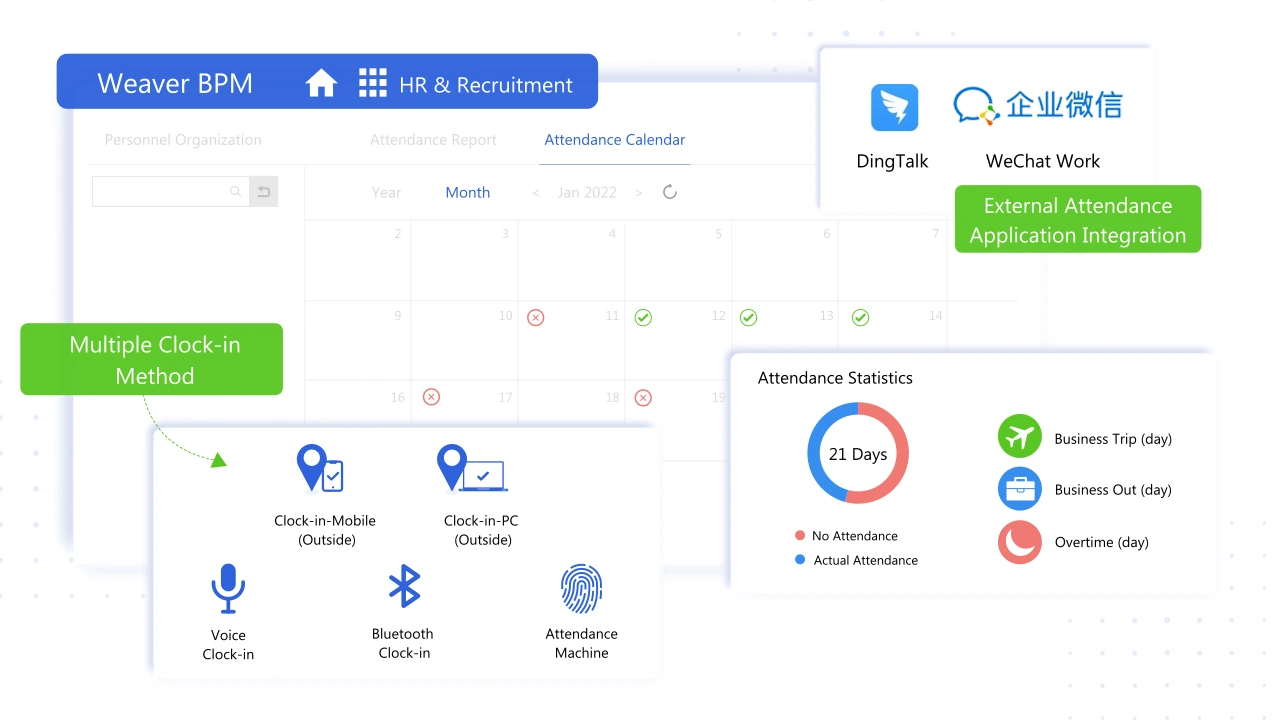 Exhibit 6: Attendance management
7. Risk compliance and monitoring
With a large number of employees, manual monitoring can be a difficult task for HR, especially in large organisations. 
HR could identify risk and monitor employee performance with automated system detection for activities such as abnormal attendance and respond quickly to minimise risk with library-based support.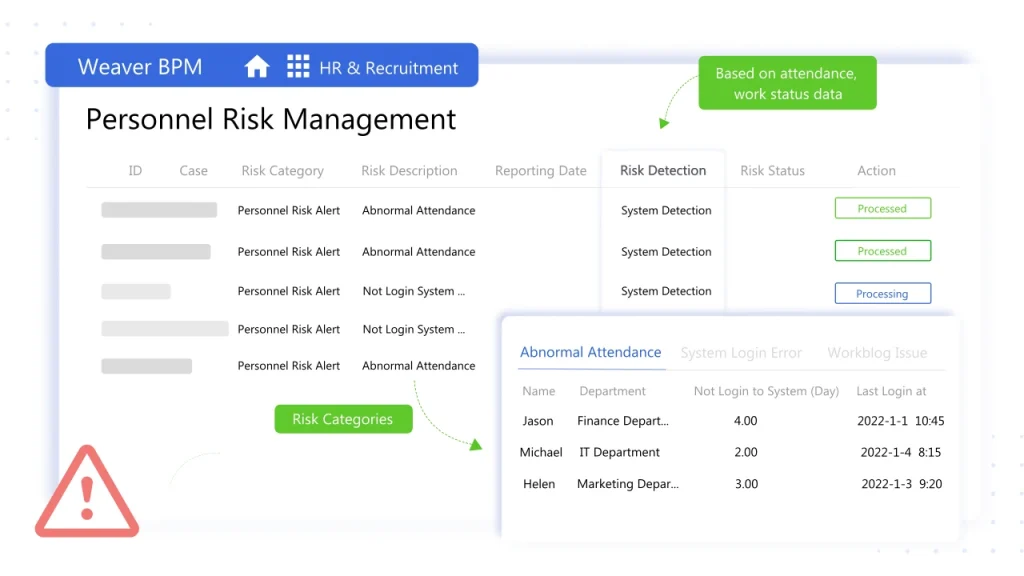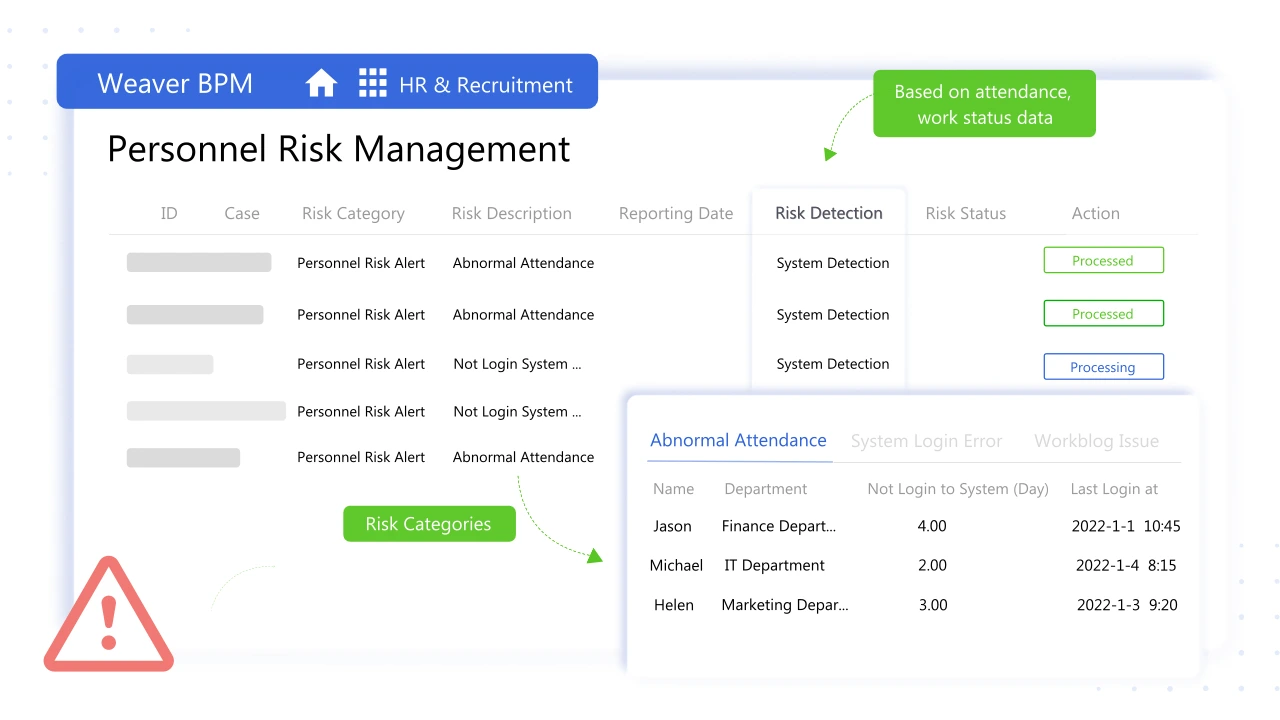 Exhibit 7: Risk compliance and monitoring
Without leaving the platform, you can access your basic information, job title information, attendance performance, scheduled meetings, submitted applications, salary and benefits, and so on.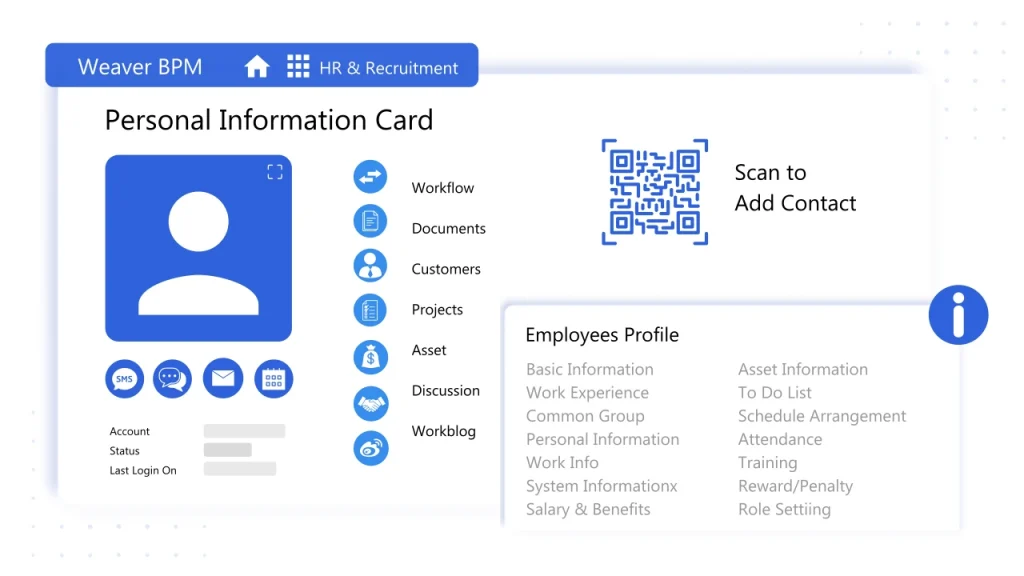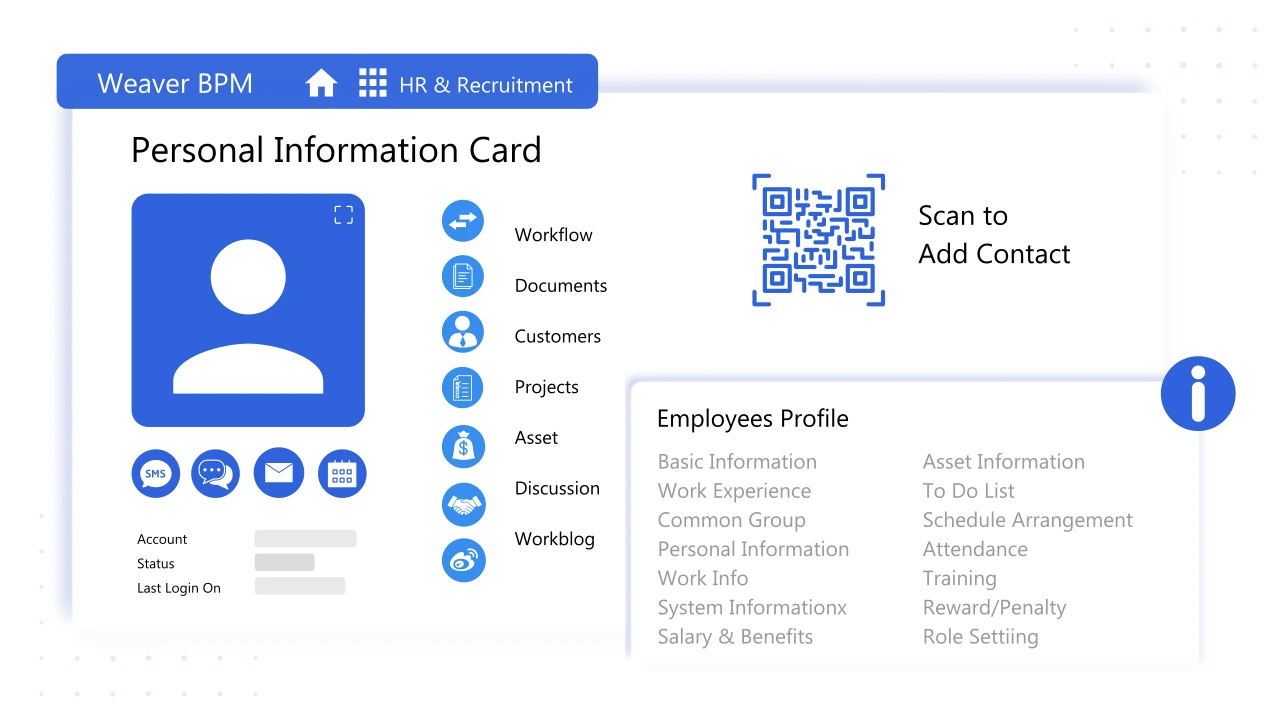 Exhibit 8: Personal ID card
9. Performance management
One of HR's responsibilities is to manage employee performance (KPI) in order to determine potential bonus and advancement opportunities. Metrics for measuring performance outcomes could be self-defined quantitative indicators.
The process of manual collection, calculation, evaluation of data can be time-consuming and risky due to miscalculation and metric misevaluation. As a result, technological assistance may be useful and minimise potential errors.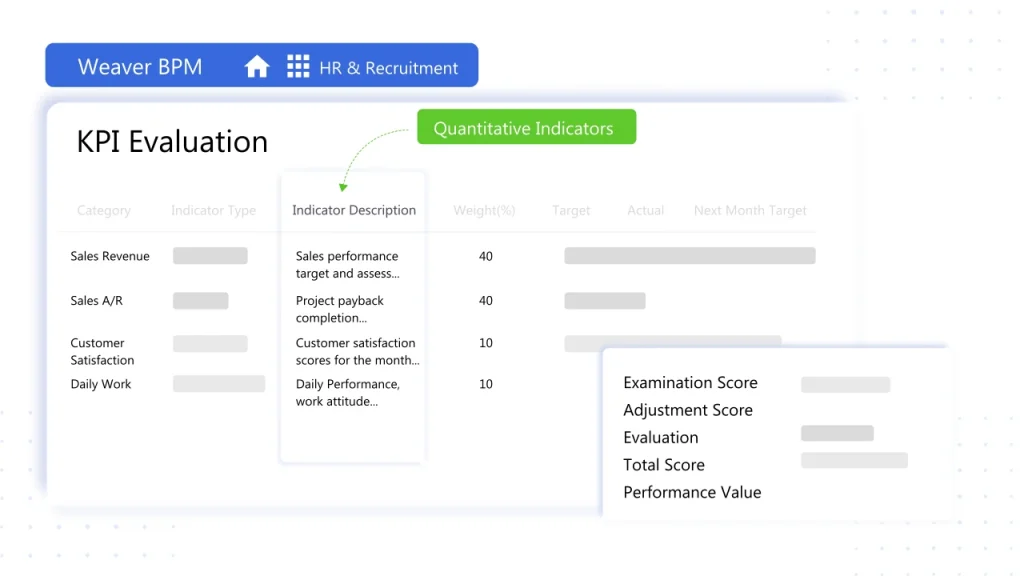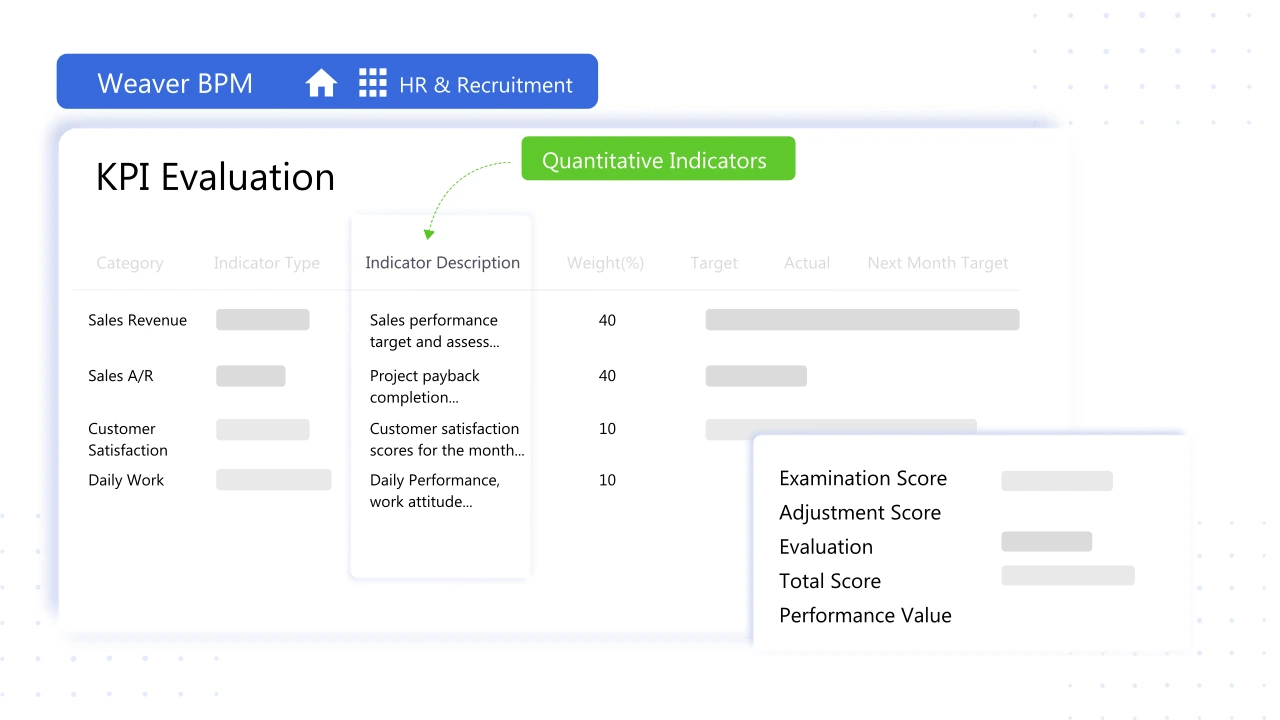 Exhibit 9: Performance management
10. Multi-dimensional report analysis
In today's complex business environment, data analysis speaks volumes. Rather than requiring manual data entry into spreadsheets and the creation of visuals for reporting and presentation purposes, our solution provides rich data analysis with visualised graphics presented holistically on your dashboard.
As a result, the time required to retrieve reports was reduced, saving time. Furthermore, with the support of low-code backend engine development, no coding experience is required for data configuration.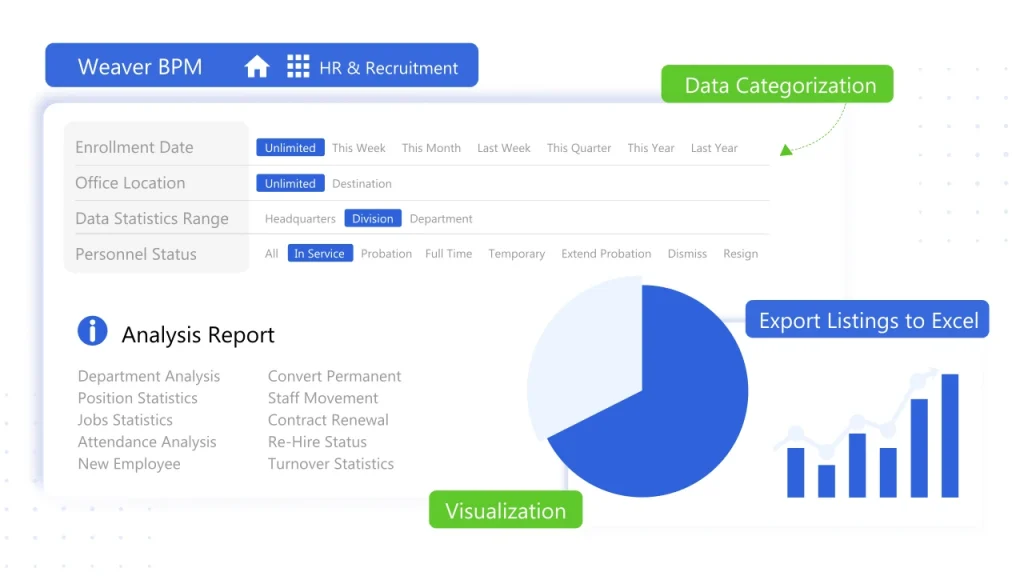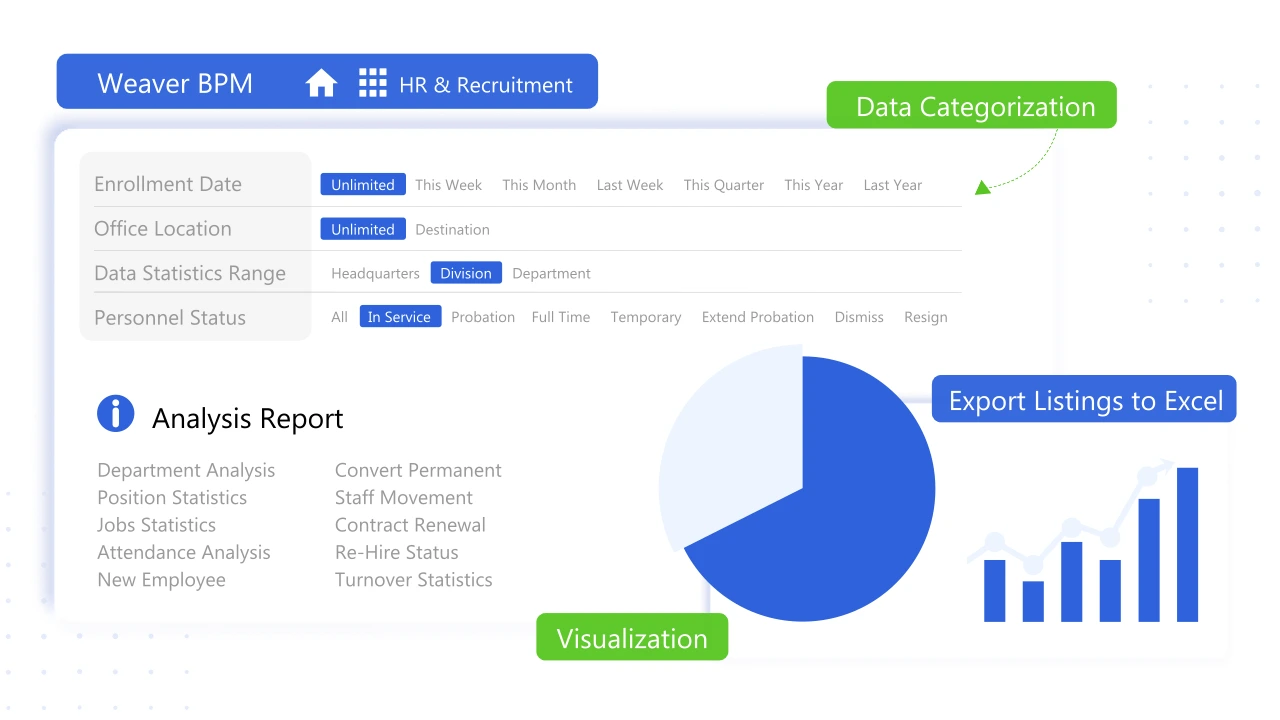 Exhibit 10: Multi-Dimensional Data analysis
Our scalability features enable individualised control management across group entities for a variety of organisational models. Take complete control of sensitive data access and enable personnel sharing centres for seamless collaboration between departments and entities.
Supported organisation models: 
grouped personnel management model 

 

hierarchical management model 

 

decentralised personnel management model

 
centralised management model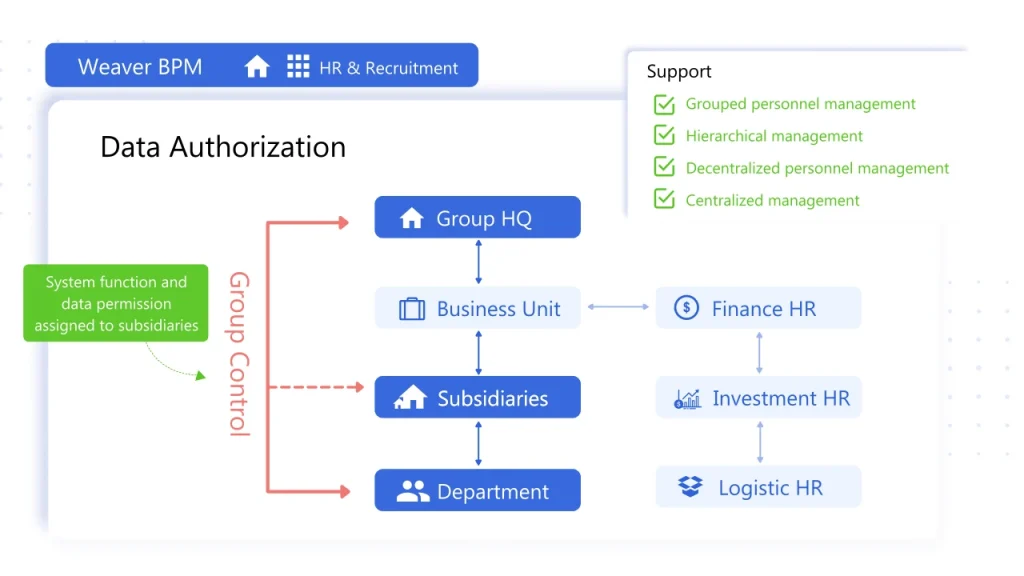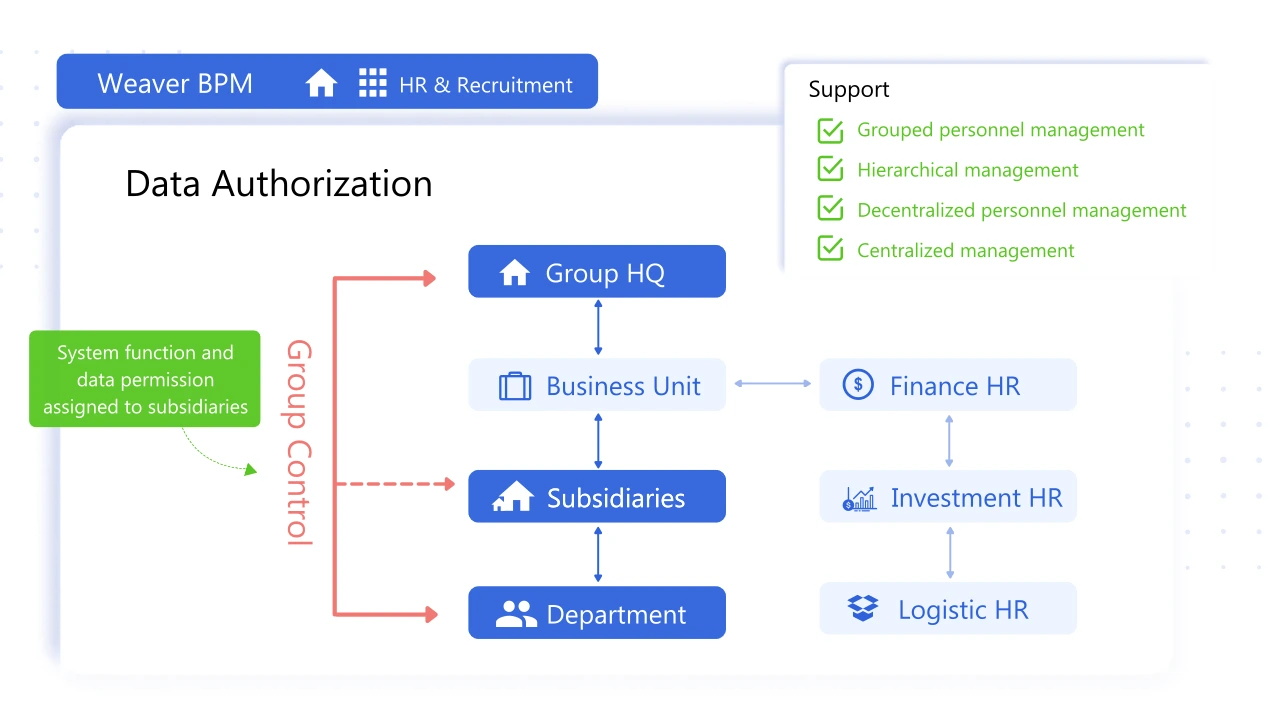 Exhibit 11: Group entity support
Smartphones are becoming more powerful than we ever imagined due to their portability and versatile features, particularly for salespeople who are constantly out of the office.
Our HR enterprise mobility app provides flexibility and scalability, which is beneficial not only to HRs but also to employees.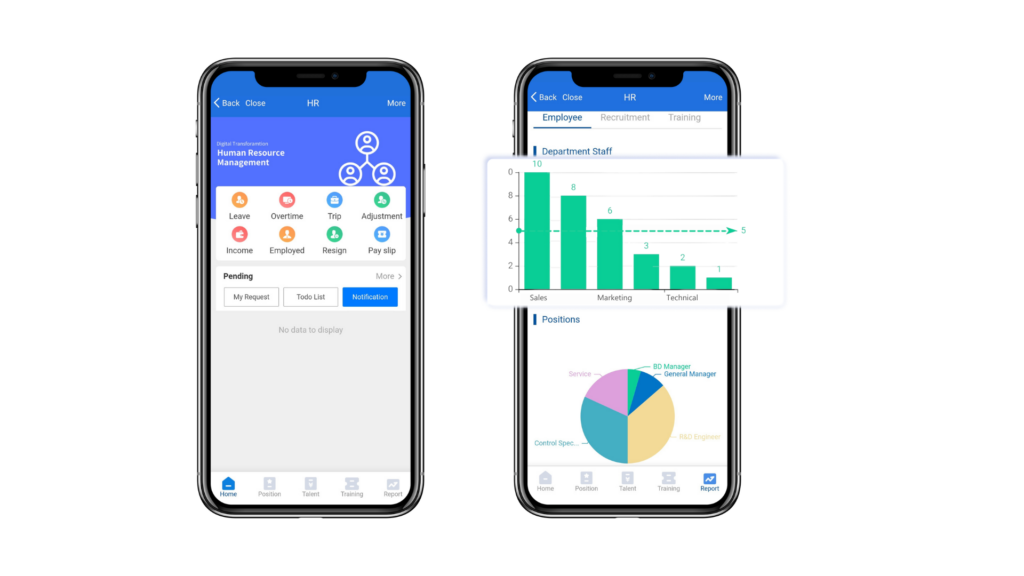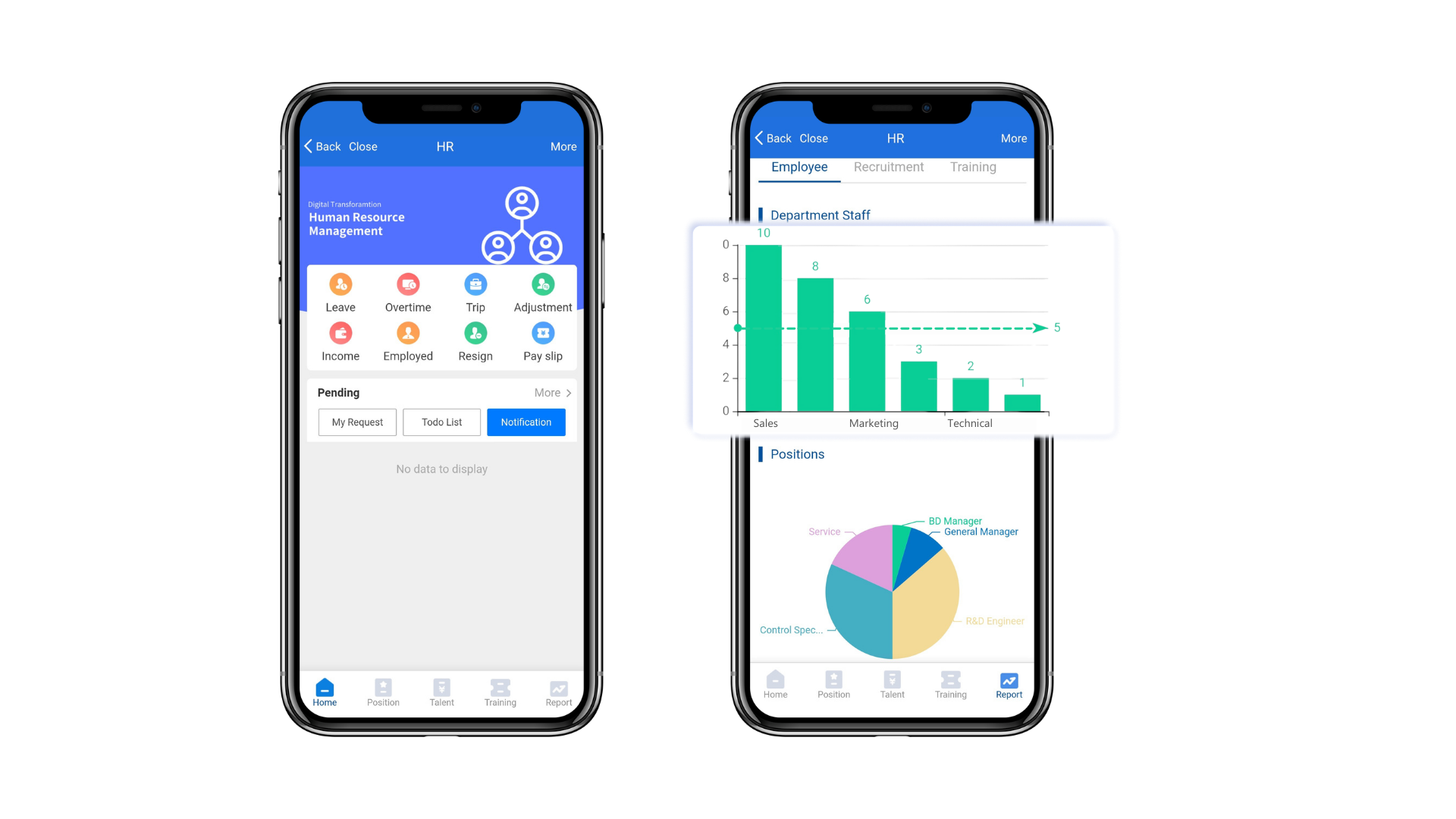 Exhibit 12: HR Enterprise Mobility
Closing thoughts on digital transformation
As we increasingly deal with digital disruptions, there is an increasing need for internal change in order to remain relevant in the evolving digital workplace. It's either being the disruptor or being disrupted by others who are ahead of the curve. However, the transformation does not happen overnight, just as Rome was not built in a day. There is no such thing as a one-size-fits-all model or strategy; it takes time, nimble execution, precision, and consistent efforts.
Transitioning to a digital-led organisation entails combining and optimising the synergy between business strategy and technology, creating values, and optimising growth for the benefit of employees and the organisation. 
As a result, the importance of digital competencies for a digital enabler company is too great for HR leaders to overlook.
Not sure where and how to begin enhancing your human resource management practises?