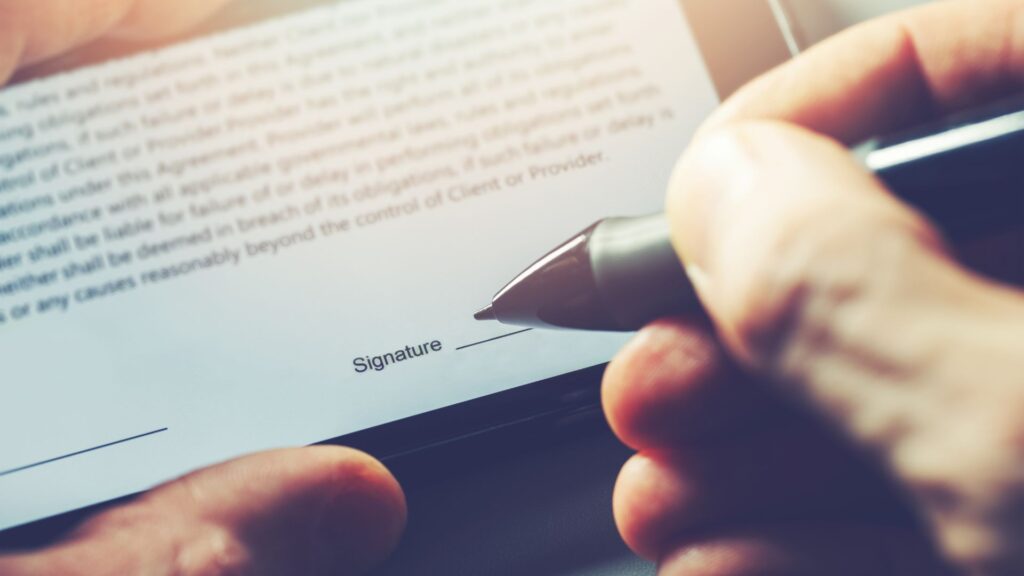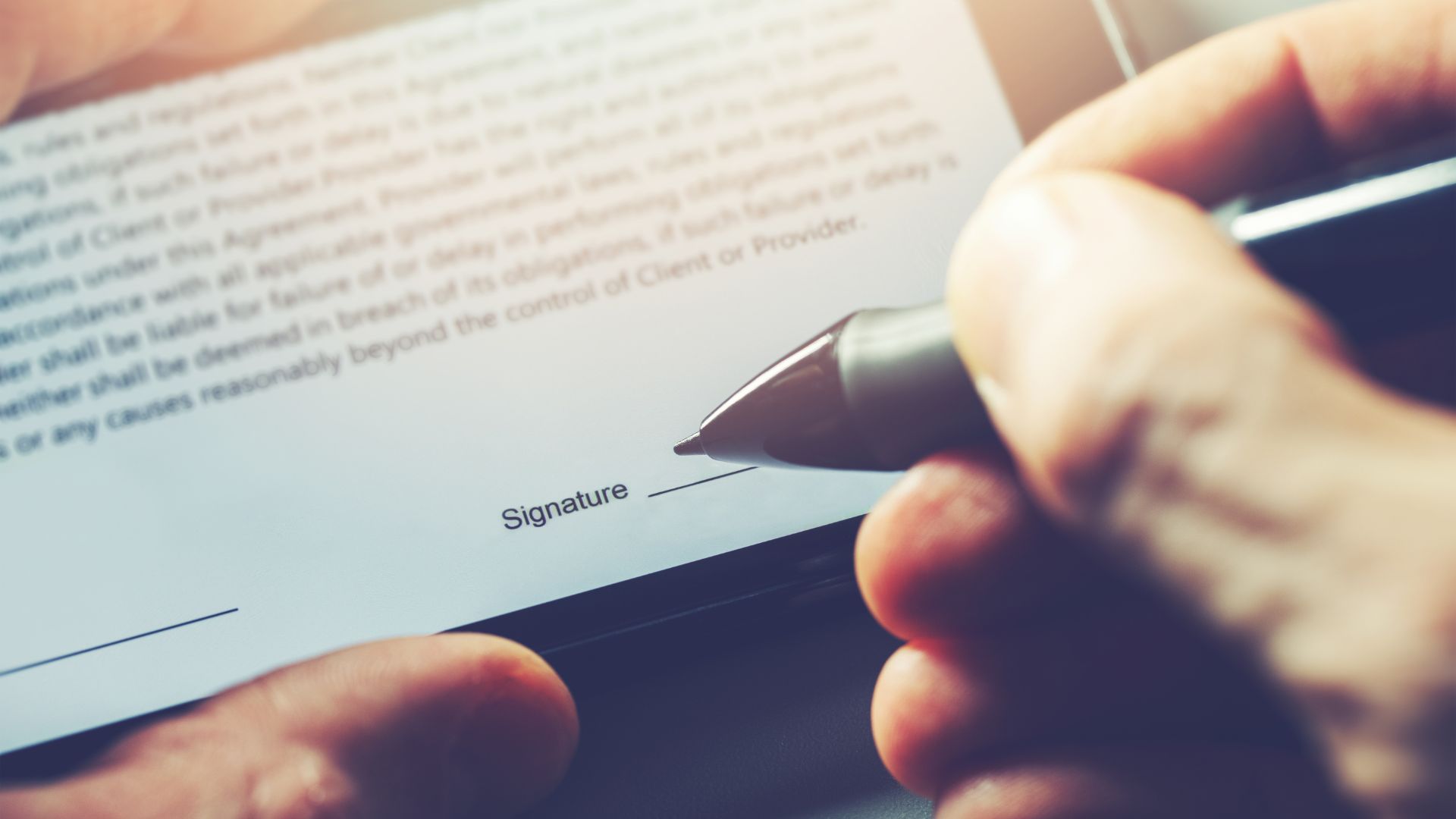 What is contract management?
Contract management, or known as Contract lifecycle management, is the management of contracts throughout their lifecycle. Contract management lifecycle entails the processes of drafting contract templates, contract signing, execution, visual reports, and archiving.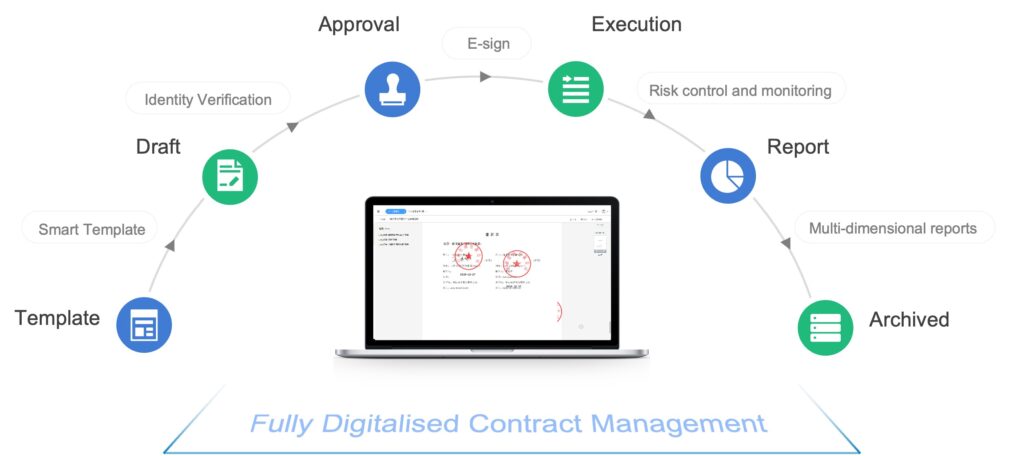 Why is contract lifecycle management important?
We've identified three challenges that most people have towards paper contracts in today's complex business environment.
Contracts complexity – Every contract has distinctive legal terms, agreements, management specifications, and requirements that must be carefully considered during execution. Meanwhile, in today's business environment, paper-based contract management methods are deemed insufficient for managing such complex processes as contract drafting and approval to a business-effectiveness level. Hence, digital contracts come into play.
Prolonged approval cycle –

A standard contract approval process often entails managerial, departmental and directorial levels. This necessitates the use of digitalisation, as paper-based contracts require contracts to pass only after they have been approved by previous personnel physically thresholds, and this often end up being time consuming. Thus, the longer the approval cycle is, the longer it takes to complete tasks in a business-effective manner.
High risk exposure – 

The lack of necessary approval decision-making information is often prone to transaction risks. Paper-based contracts often faced difficulties in having specific authorised signee presented in-person, or even occurred tampering or misuse of stamp during the execution process.


Other notable risks including scattered financial, performance related information due to lack of integration and coordination during the contract execution phase. The inability to monitor contract execution process and respond in an agile manner also calls for unforeseen risk to the business.   
The benefits of contract lifecycle management
Stay in the know and maximise every opportunities from digitalising your contracts. Get in action by transform and streamline contract processes into digital workflows.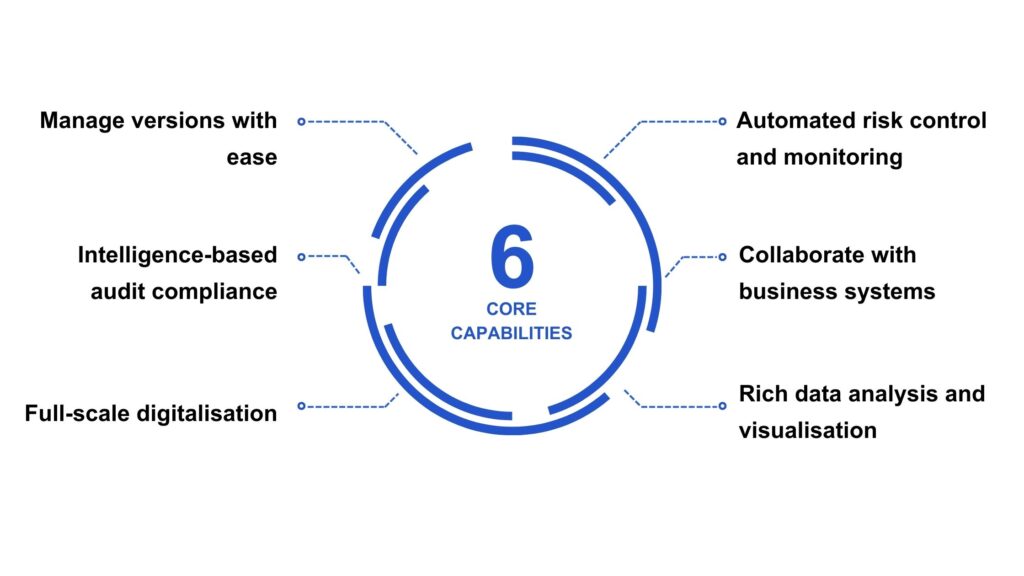 Manage versions with ease – 

Create a version of your own with new edits on pre-built contract templates. Limit who gets to edit templates, underscoring key points, make versions comparison.

Facilitate seamless collaboration and agreement between internal and external departments.
Intelligence-based audit compliance – 

Self-defined approval matrix is developed to push-forward approval workflow where departments work collaboratively while perform their respective duties.
Full-scale digitalisation –

Full-scale digitalisation which offers the standardisation of contract approval through personal identity verification during the process of digital stamping (e-Seal) and digital signature (e-Sign). Leverage the capabilities of digital documentation, enable quick retrieval and lesser hassle. 
Automated risk control and monitoring – 

Monitor any potential risk associated with the contracts through smart intelligent technology with built-in system automated reminders in light of overdue contracts and changes in credit of counter-party.
Collaborate with business systems – 

Transparency of contract terms and regulations could avoid any ambiguity and hasten the contract lifecycle for project delivery, procurement, and production operations,

Stay in control in terms of payments by obligate and abide with the contract terms.
Rich data analysis – 

Provided detailed summary reports on signed contracts, contract execution, and risk monitoring.

Visualise data in collaborative with business, finance, contract performances and fund payments associated. Self-defined reports are also up for personalisation according to your specifications. 
Don't worry, we got you covered with our Mobile Contract Management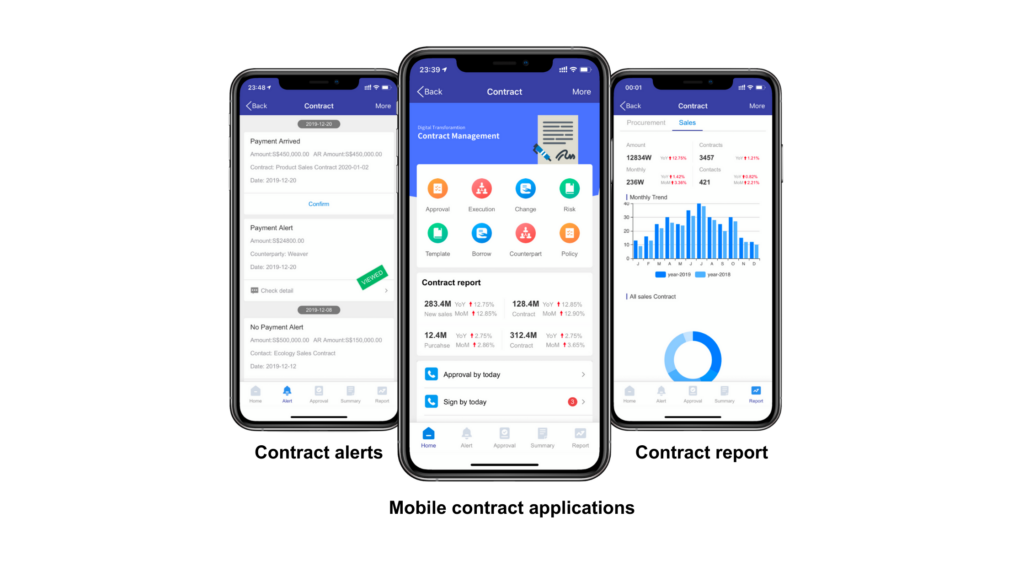 Compatible with HTML5, provided flexibility and responsive user interface between mobile and PC.

Ease navigation in the frontend and robust integration tools in the backend development.
Stocktake (Inventory management)
Nonconformance report (NCR)
Core features of E-cology platform
Not sure on how to start leverage digital contract management for business efficiency?