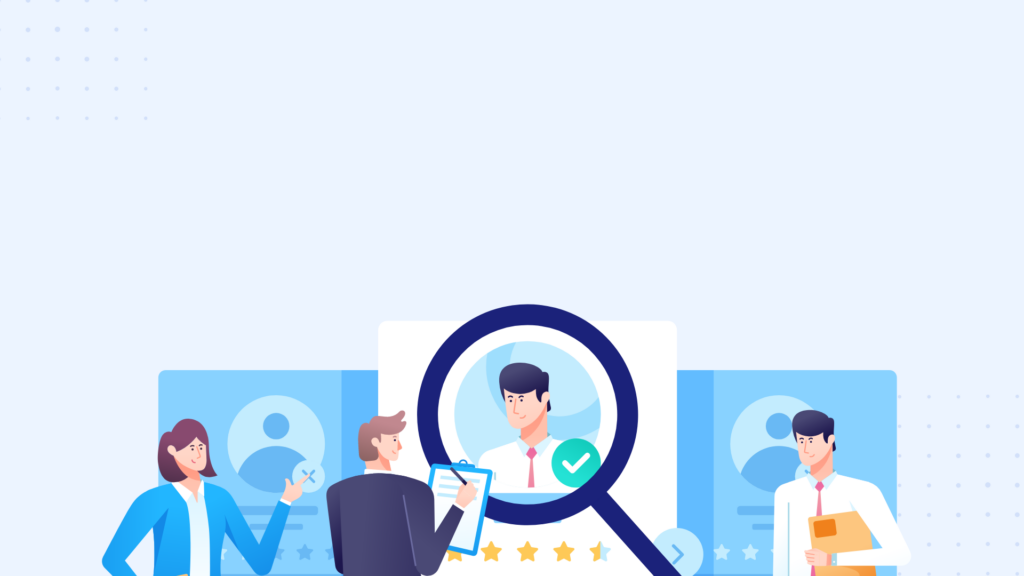 All-in-one Platform for Recruitment & Selection Process- Why is it important for HR
Recruitment and selection process is just like any other day for recruiters, but some are constantly struggling with going back and forth between accounts, tabs, filtering resumes, and contacting candidates over different job portals and communication channels.

The lack of integration between channels made it much less efficient and ineffective for the recruitment and selection process, and even delaying the entire workflow. Hence, it is not about having inadequate resources or struggling to hire the best performing candidate, it is all about using the right strategy.
Thus, Weaver E-cology platform provides the exact tools and features you need for recruitment and selection management.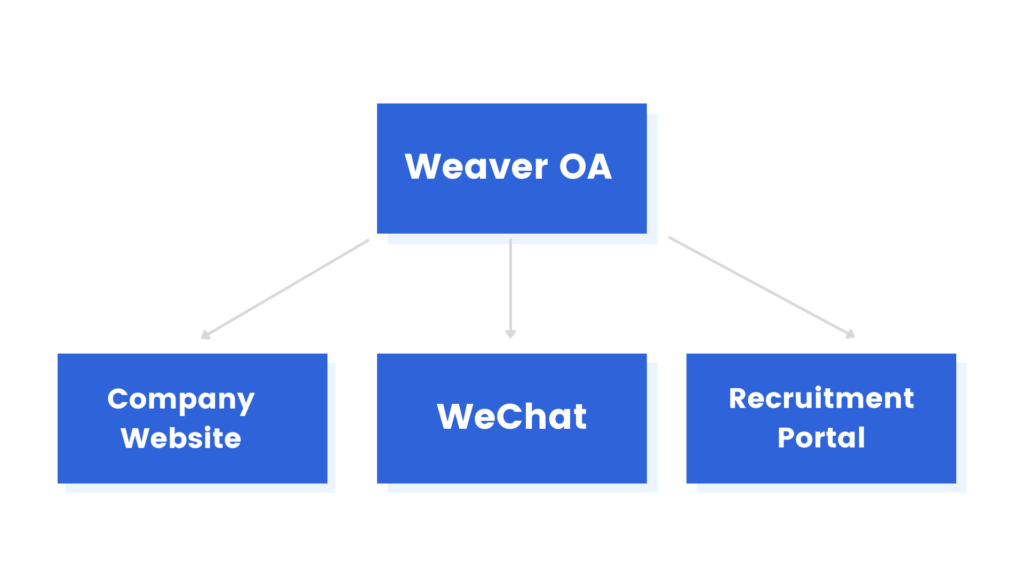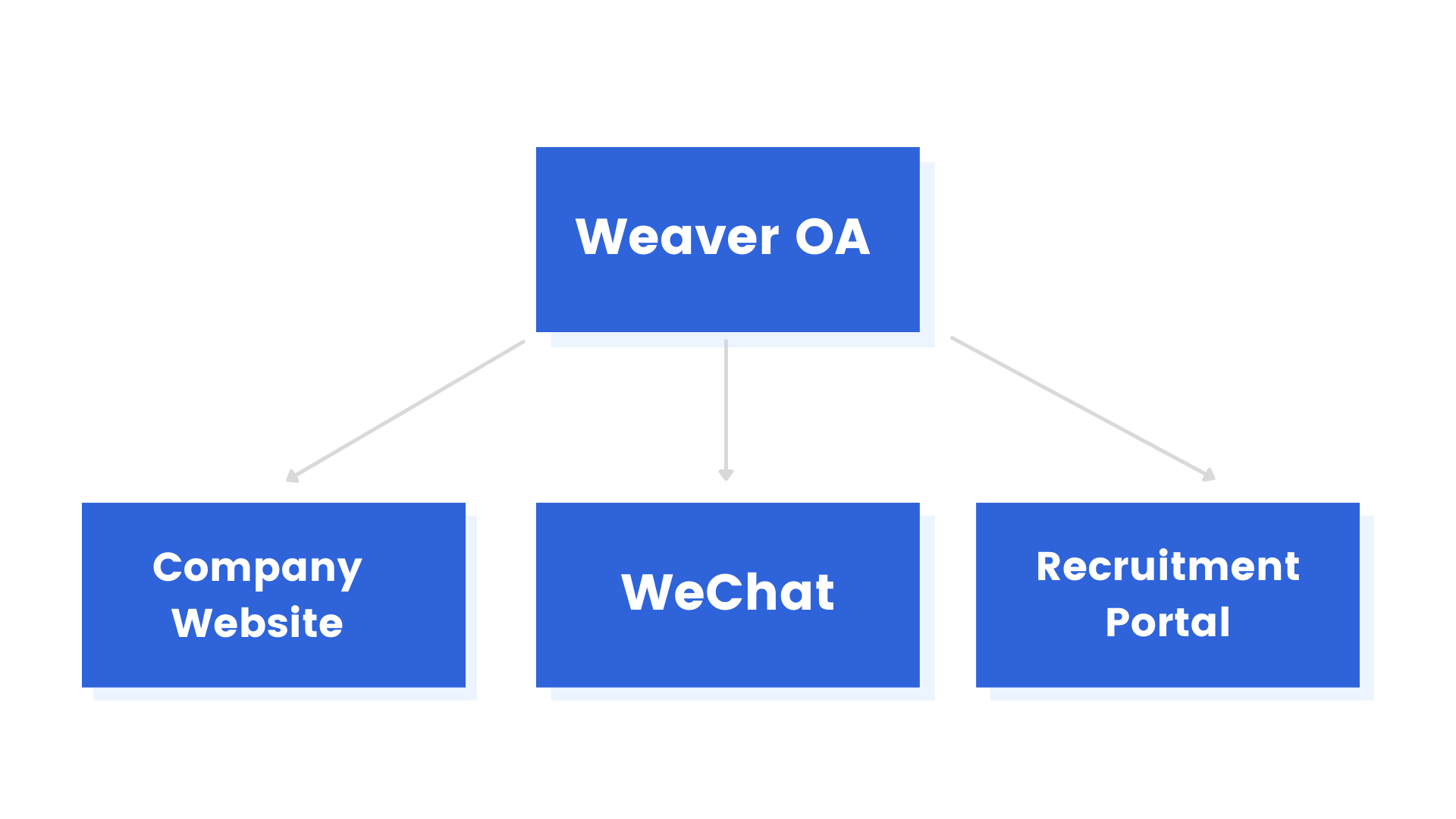 1. Integrate with Third-Party Job Portals  
Built-in HR Management solution within our Weaver E-cology platform, it allows integration with company website and third-party job portal, i.e.: Jobstreet, Indeed, you name it! Creating a smooth job posting process without switching over sites, tabs, and accounts.  
2. Stay on Track with Your Application  
Submitted applications are also automatically sorted based on position applied and then stored in the database upon submission, allowing ease of tracking when needed. No more manual data entries of applications.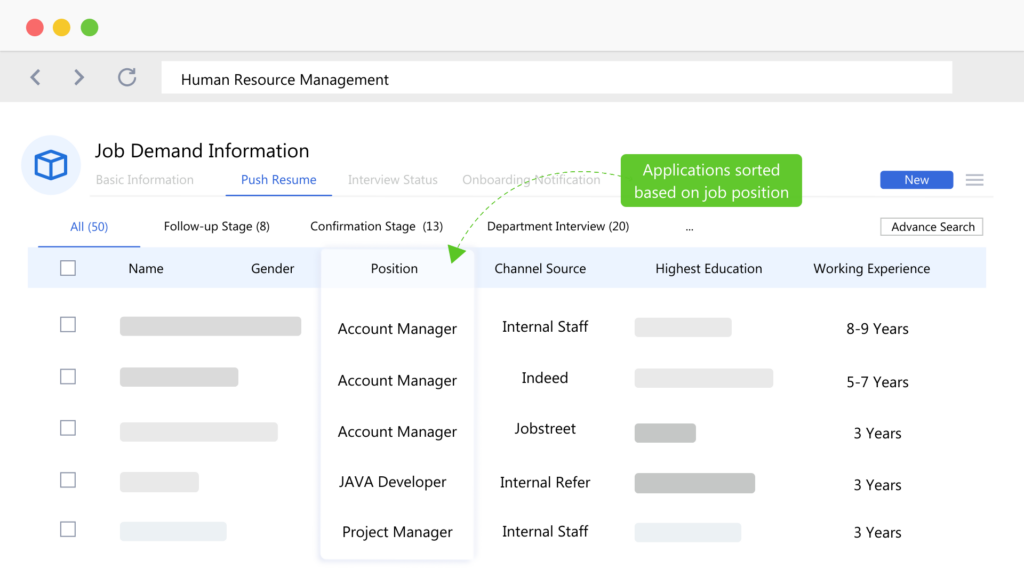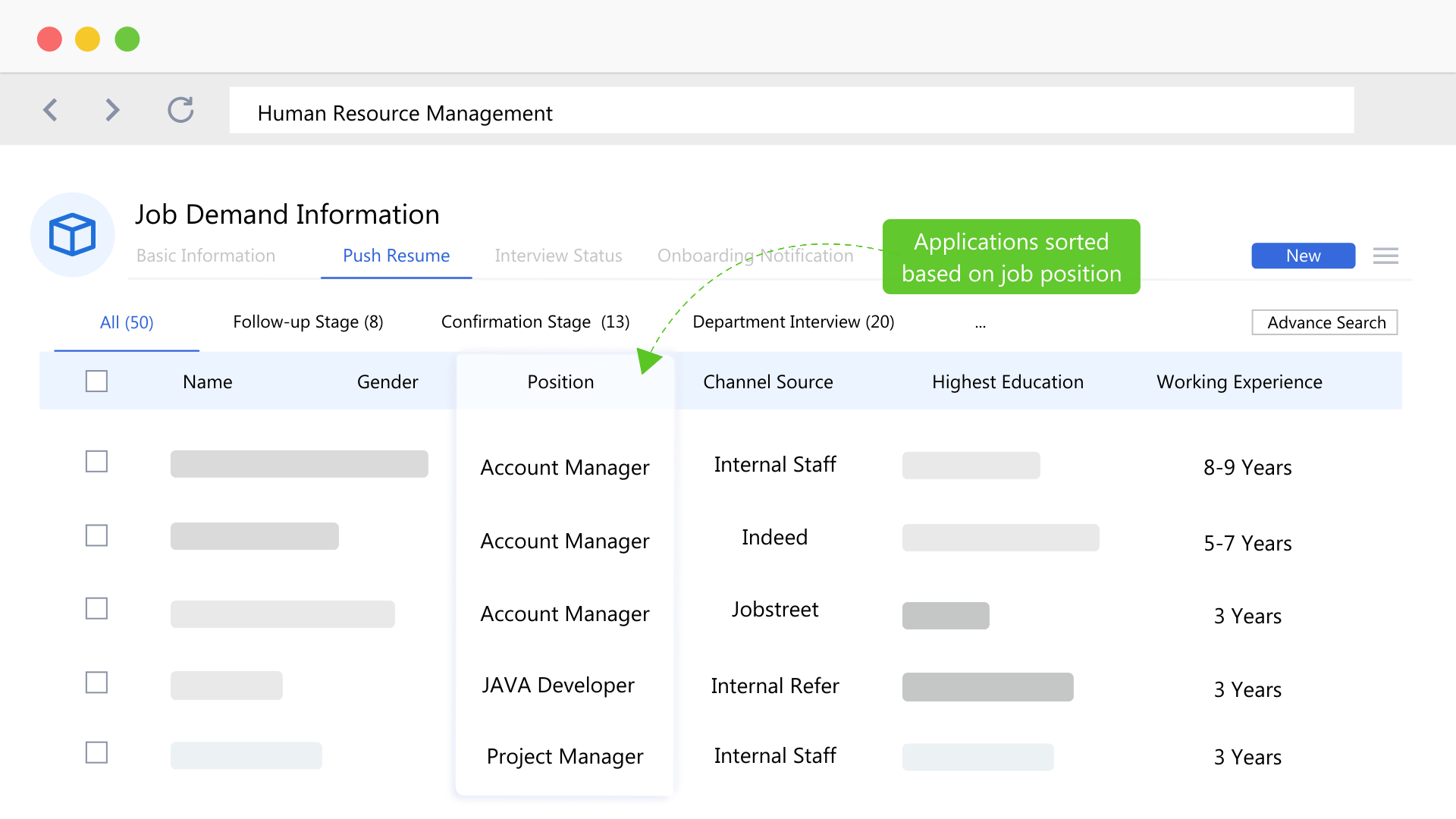 3. Maintain Seamless Communication with Candidates
Building relationships with candidates is essential. Constantly stay in touch and communicate with candidates without having to switch between multiple accounts, having one account and one platform to handle it all.
4. Filter Resumes Effectively
Avoid duplications, repetitions, of resumes submission where E-cology platform uses AI-powered intelligence by pushing resume that fitted your requirements to your end, finding the suitable person for the specific job.
5. WeChat Work Integration
Job posting nowadays is not limited to professional job portals anymore where social platforms come in and change the game, partially.
WeChat Work (or known as WeCom) enhanced the recruitment and selection process and experience by incorporating the job postings, job descriptions and application link into QR-code, making it more efficient to submit resumes, make interview arrangement by just scanning. It is a win-win situation for both recruiters and candidates.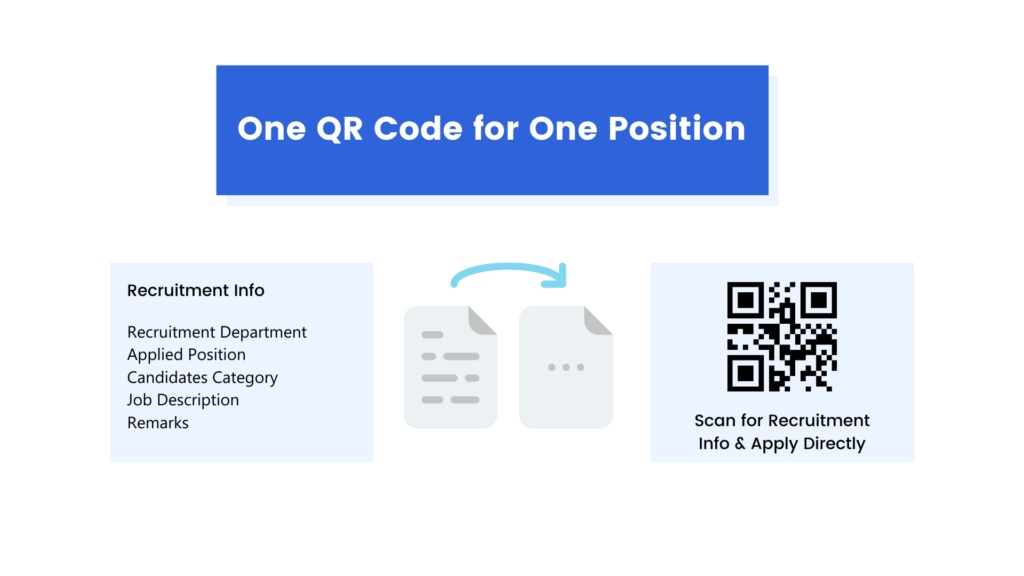 Go Paperless with Modern Technology – Why is it Necessary
As of today, most recruitment and selection processes are still paper-based. Piles of documents making it hard to retrieve the information you needed quickly, hence consuming more of your time in the end. 
 The lack of information transparency between the recruiters and the hiring managers often resulted in delayed response during the recruitment and selection process, whereby having chances of missing out potential candidates that you have set your eye on.  
Offline approval process often delayed due to hiring manager out of the office, or conflicted schedule to make rounds. Through workflows and application forms builder in the Weaver E-cology platform, it allows standardising, transparency of data and processes, hence fast-tracking the whole recruitment and selection process.  
1. Deploy a Recruitment and Selection Plan 
Recruitment and selection plan can be pre-planned by departments in Weaver E-cology platform when new recruits are needed. Information such as when to recruit, job description and skills requirement, number of recruits to hire will reach HR through designated workflows upon submitting application forms, allowing you to execute the job posting task efficiently.  
The transparency of data, information and easy accessibility could avoid the repetition of recruiters contacting the same candidates, achieving full optimisation of the recruitment and selection process.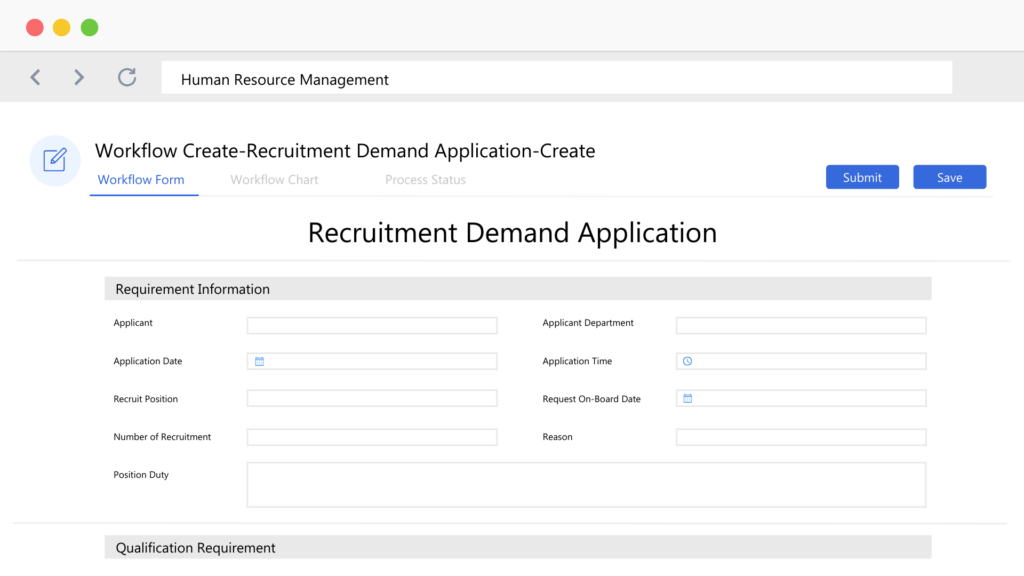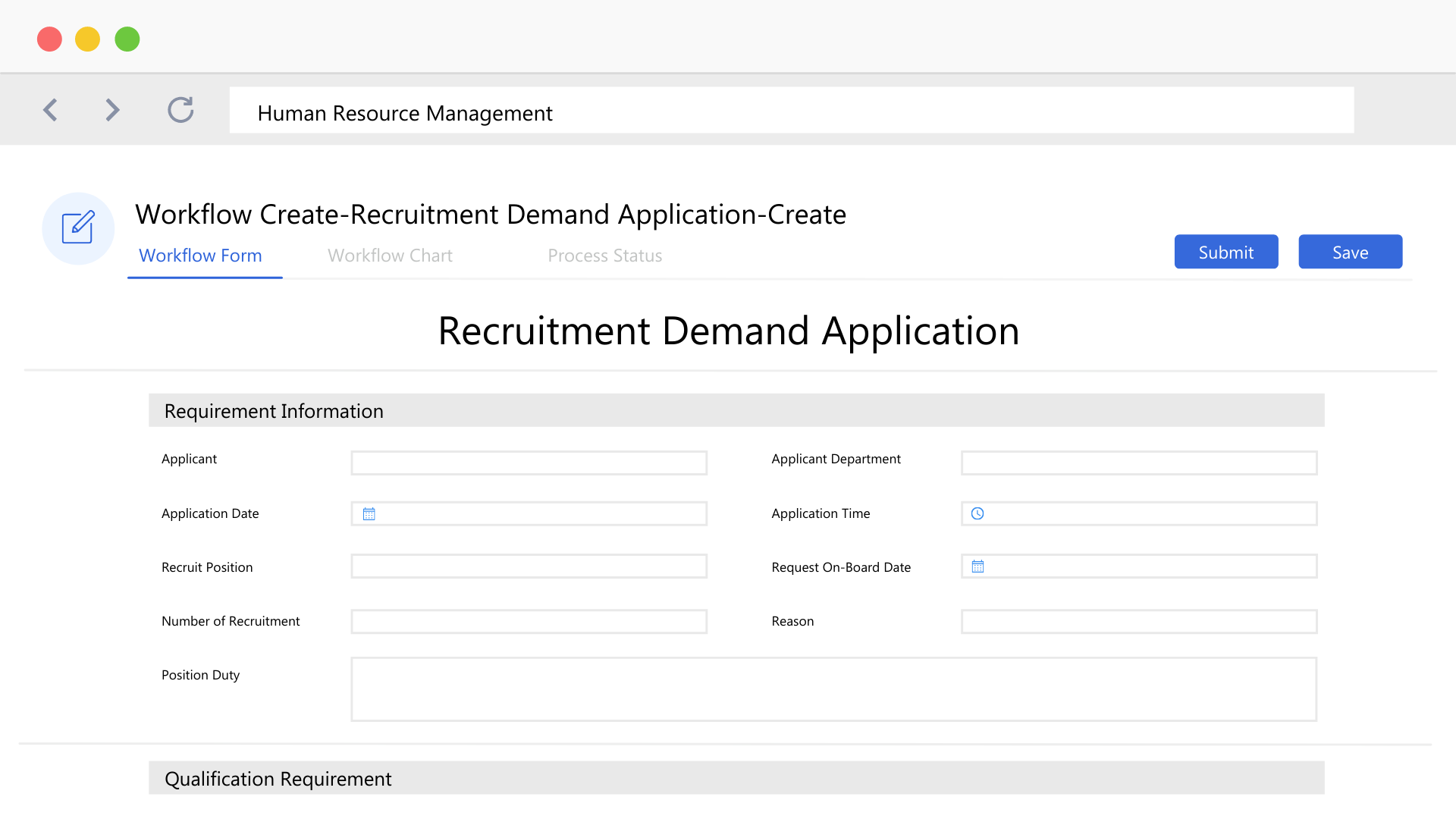 2. Build a Flexible Approval Workflow
The approval process often varies depending on the job position, requirements and department associated with. Hence, a flexible workflow should be designed and implemented for achieving higher efficiency outcome and recruiting the right candidates.
Management of referral or appointed candidates can also be managed based on specially curated approval according to your requirements and management needs.
3. Build Your Own "Talent Pool"
Most companies have their very own talent database or employee database which stores information about candidates. You could easily assign the right talent to succeed in the right job without asking around – as all information is transparent for you.
Every resume received upon application submission will be directly stored in the talent database. You can easily keep tab of every record including basic information, interview performance, interview result, offer status, reason for offer rejection and so on.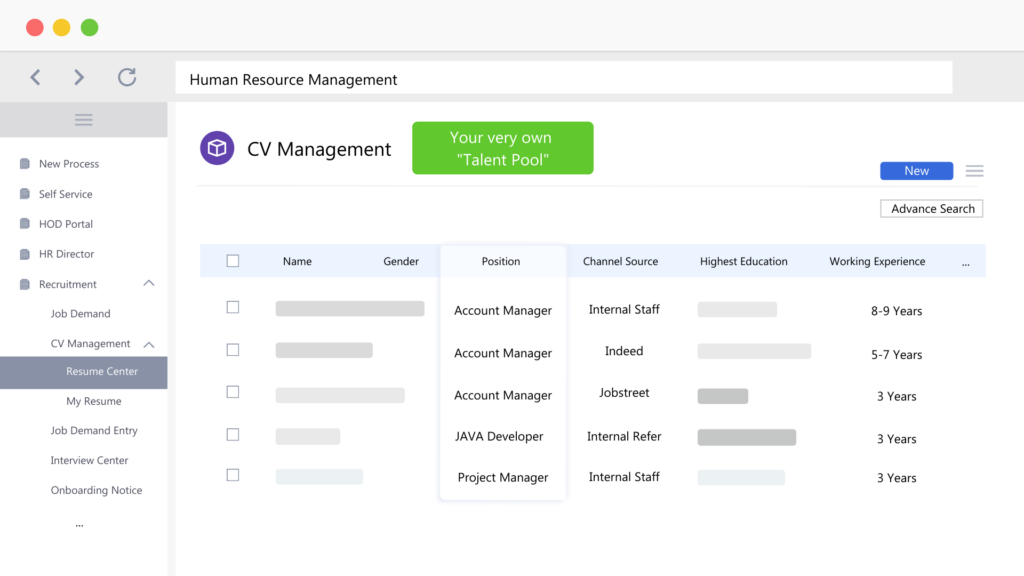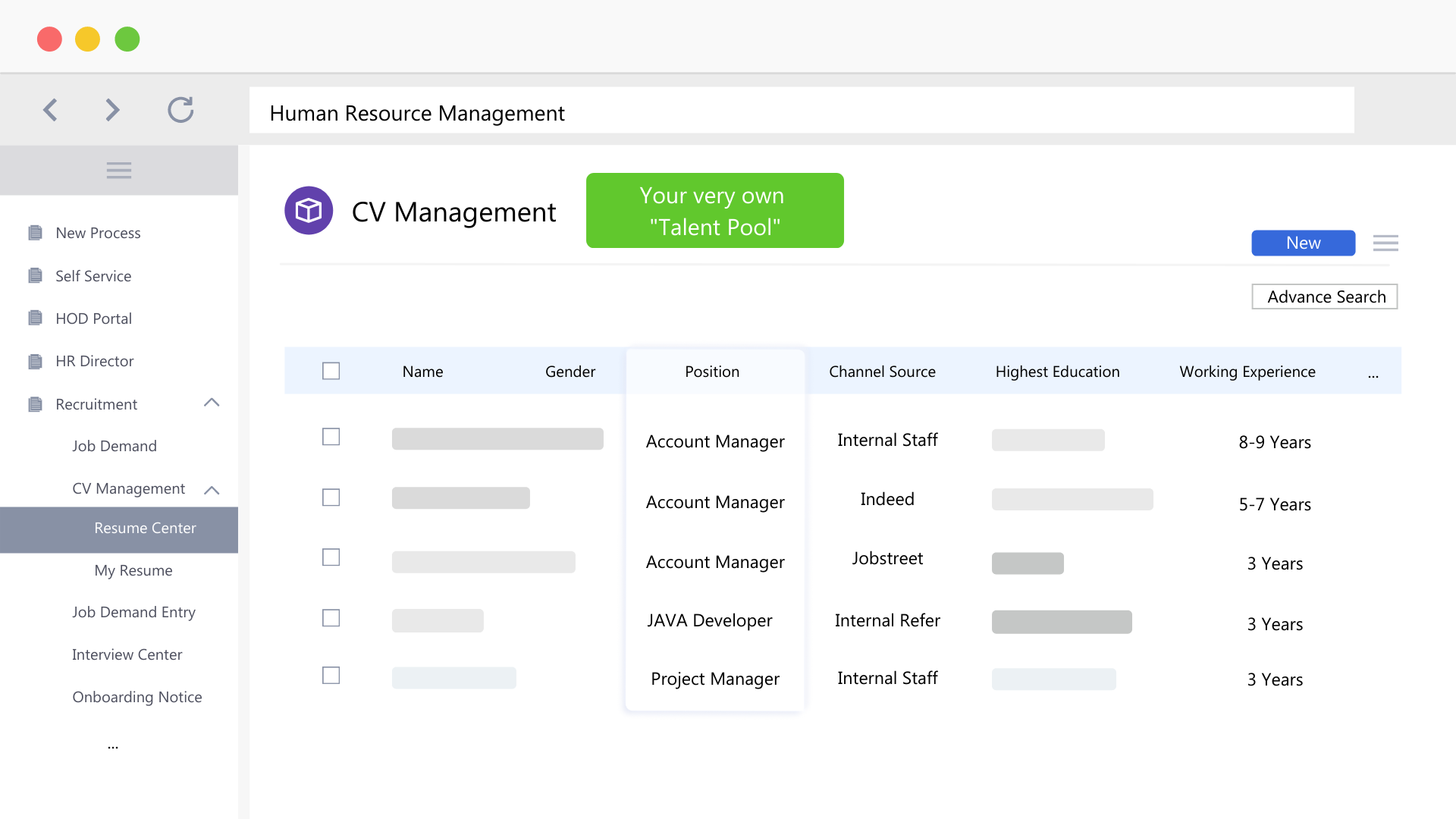 4. Filter According to Job Position

Resume will be filtered according to job position applied for easy accessibility and review by HR and hiring managers respectively. Allowing tools like adding opinions, comments, and filtering out the best candidates among the "talent pool."
5. Comparing Resumes
Most often there are candidates who possess similar skills which make it difficult during the recruitment and selection process. The capability to compare resumes could enhance the filtering process by highlighting education background, language proficiency, and working experience according to your preferences to enhance the decision-making process.
Seamless Onboarding Process
Onboarding processes are also the determinants for an effective indicator for a successful recruitment and selection outcome. Most often new recruits are unaware and lost about what to submit. Meanwhile, hand-written onboarding forms are then required for manual data entry into the system, which increases the workload of HR.  
Upon activation of work account in the Weaver E-cology platform, new recruits will be guided by the system to submit necessary documents for onboarding, which are then stored in the database. No side-by-side guidance needed where all onboarding processes can be done by new recruits themselves.  
1. Documents Verification System Notification  
System notification will be displayed on the Weaver E-cology platform for documents verification status, new recruits will be informed of the missing documents and re-submit accordingly. Streamlining the onboarding process for a smooth experience by automated Weaver E-cology platform.  
2. Digital Offer Letter  
Signing an offer letter is the very first step right before onboarding. To reduce the time taken for the signing period, Weaver E-cology platform integrated digital contract solution for higher efficiency. The e-sign solution allows new recruits, recruiters and hiring managers to sign anytime, anywhere on their mobile.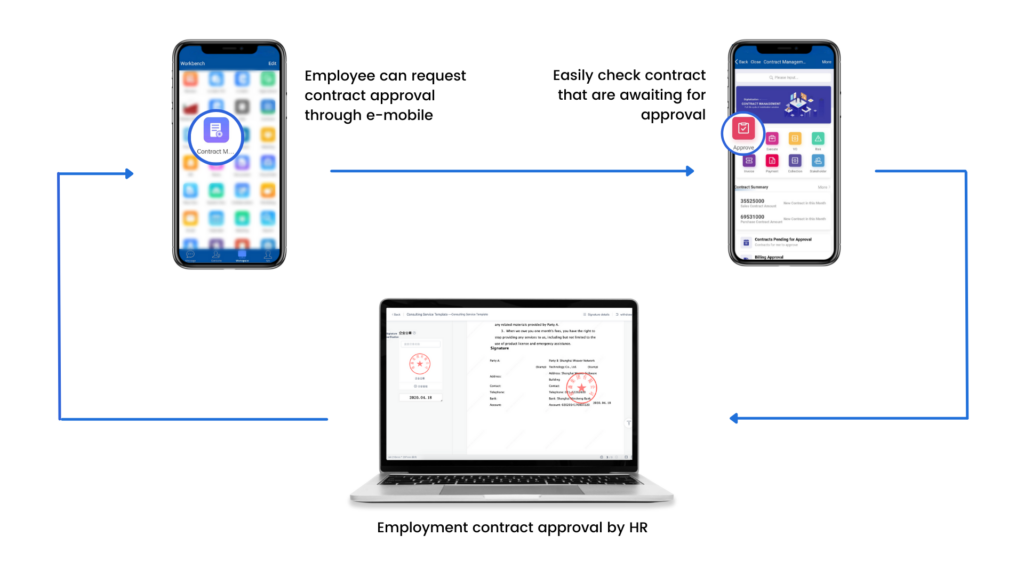 3. Access to Digital Documents  
Employment contract, position description, and employee manual are uploaded to system database and available online. No more endless printings, manual requests and approval needed to access related documents.  
E-cology + e-Mobile Integration
Higher flexibility of recruitment and selection process is achieved upon the integration of Weaver E-cology and e-mobile function. You will get access to WeChat Work, and other internal applications inside the app.  
Shortening the life-cycle of recruitment and selection process by collecting, filtering resumes, interview scheduling related activities at your fingertips.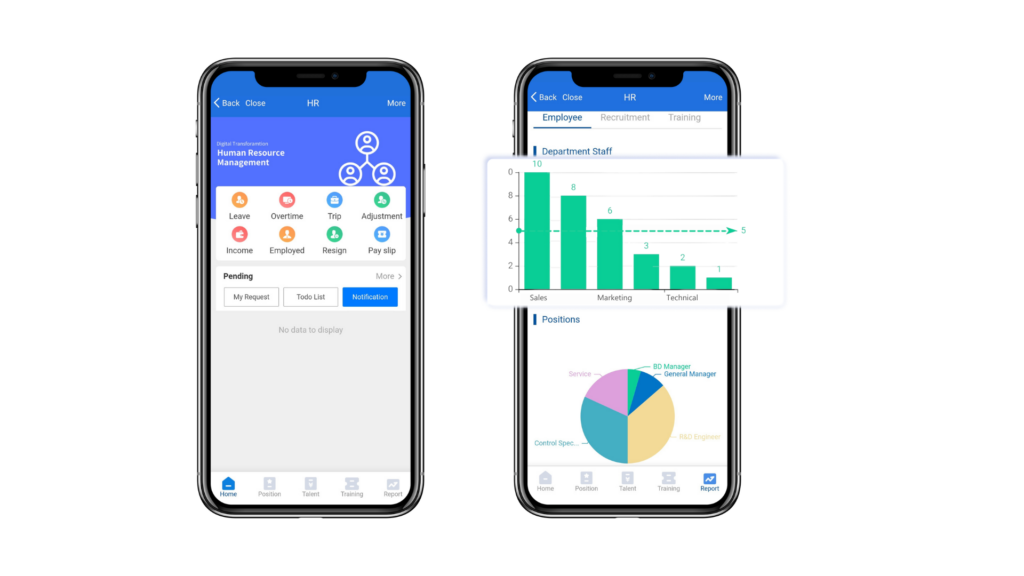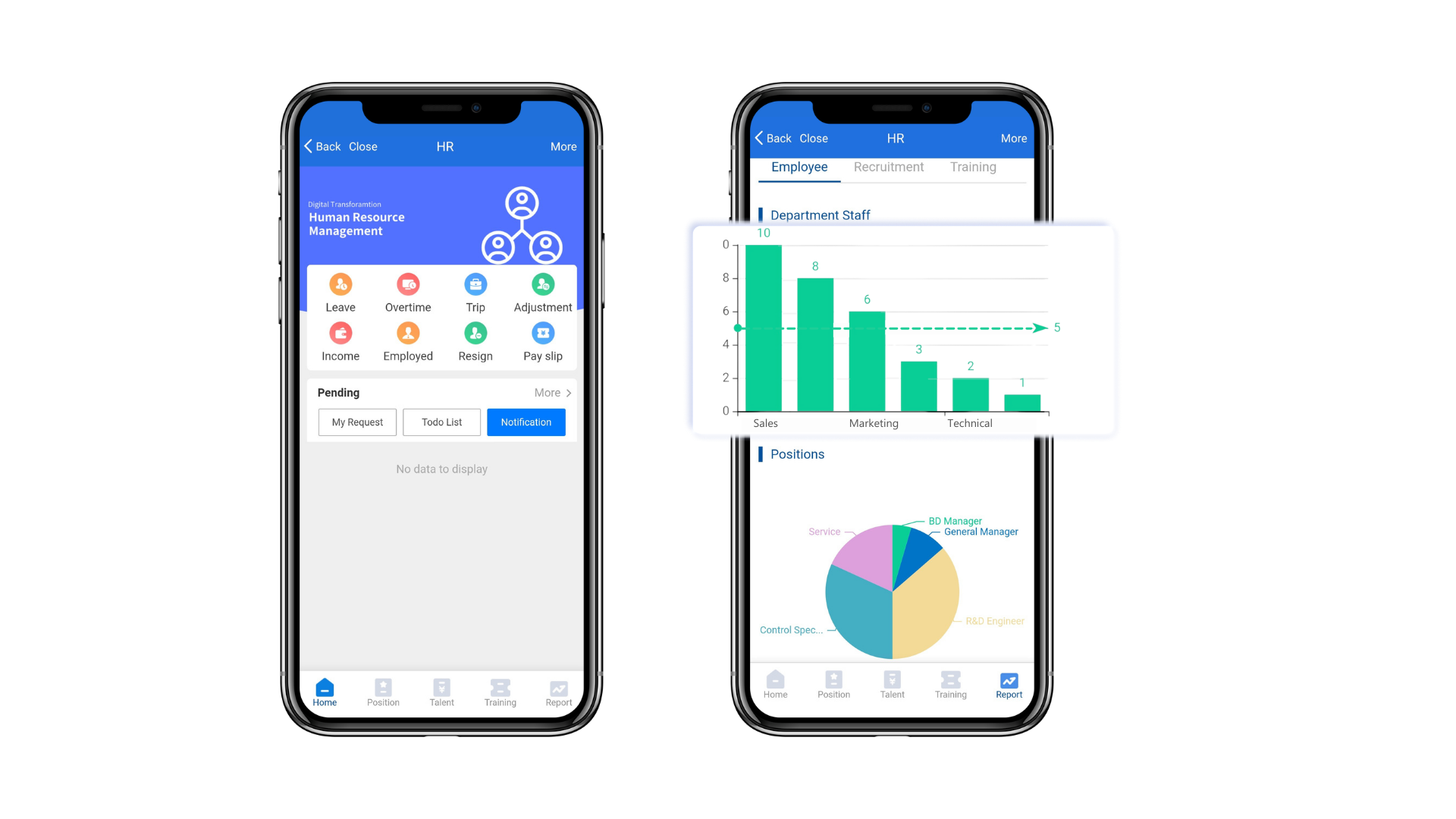 Weaver E-cology's HR Workflow Management Core Values
1. Innovative Channels Integration 
Integration and supporting of e-mobile platform, third-party applications, social platforms to build a flexibility workspace coordination, by hiring new people anytime, anywhere at your fingertips.  
2. Focus on what matters 
The modernise and digitisation of processing recruitment and selection, paperless documentation, building up database and onboarding matters could loosen up the burden and workload of HR. Thereby transforming complex processes into a simpler one, letting you focus on the task that matters and hire potential candidates. 
3. "Talent Pool" Database 
Having a big database, or we called it "Talent Pool" that stores information of potential candidates, existing employees in one single platform, allows easy access and retrieval of information and spot out the best talent in seconds.  
Weaver E-cology platform is the perfect solution for recruiter's day-to-day operations, from recruitment and selection, employment, training, and retention.
With one single platform for all HR activities, it streamlines the whole selection and recruitment process, making it more efficient in many ways. By using existing resources and exploring new ways for an effective recruitment method, internal sharing of recruitment information and keeping everyone on track. Digitalisation also push forward and simplifying the documents approval process, one-time data entry and creating a seamless onboarding process experience for new recruits. 
SHARE TO YOUR SOCIAL MEDIA
Recruitment and Selection, HR, Office Automation, Workflow Automation, Resume, CV, Workflow Management, Talent Pool, WeChat Work, Paperless, Onboarding, e-Mobile